ASEAN, Karura partner in conservation bid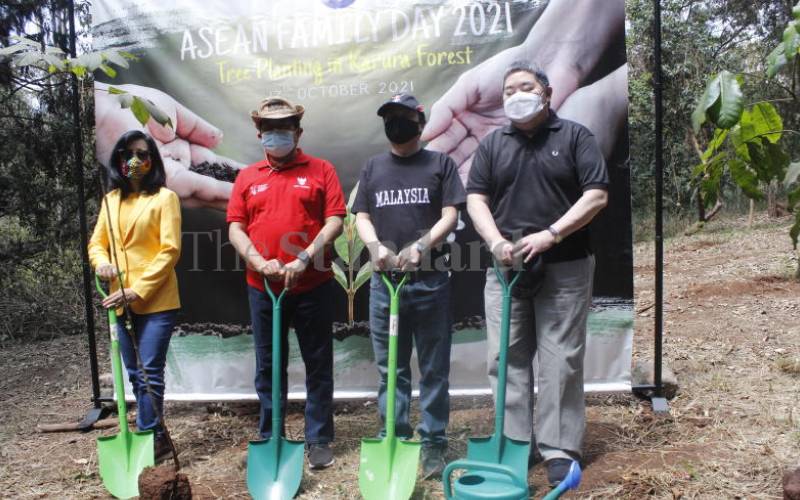 Association of Southeast Asian Nations (ASEAN) members yesterday marked Asean Family Day by planting trees at Karura Forest in Nairobi, Kenya.
The association, which brings together the missions of Indonesia, Malaysia, Thailand and the Philippines, partnered with Friends of Karura and Kenya Forest Service to plant 104 trees in a bid to tackle climate change.
Speaking during the event, the Indonesian Ambassador to Kenya Hery Saripudin, who chairs the ASEAN Nairobi council, said the initiative was influenced by the ASEAN countries' desire to contribute towards environmental conservation.
"I was reading an article on the importance of trees and among the 10 reasons the article highlighted was that a tree produces oxygen for at least four people. This means that today we will plant trees that will upon maturity produce oxygen for at least 416 people, a small number but a huge contribution towards conservation," Dr Saripudin said.
Friends of Karura Operations manager Peter Njui said the climatic change has influenced rain patterns in Kenya and the world at large.
"For instance, this event had been slotted for October as we expected the short rains, which have failed and it doesn't look like it will rain anytime soon. We appreciate what the Asean missions have done and we call upon other communities to embrace tree growing," Mr Njui said.
The initiative is a contribution to the wider ASEAN member states' actions to address climate change through various environmental, economic and social activities.
Several ASEAN states have announced voluntary mitigation targets, including Indonesia emission reduction of 26 per cent from business-as-usual by 2020, and can be increased to 41 per cent with enhanced international assistance.
Malaysia announced a reduction of 40 per cent in terms of energy intensity of GDP by 2020 compared to 2005 levels, while Singapore announced an emission reduction of 16 per cent below BAU by 2020. The Philippines set its sights on a 20 per cent reduction.
The initiative comes ahead of the COP26 climate change summit scheduled for October 31 and November 12 in Glasgow, Scotland.
What not to tell the bereaved  
While some believe grief has no formula, it does have stages: denial and isolation, anger, bargaining, depression, and acceptance.