Counties seek to reap from forestry resources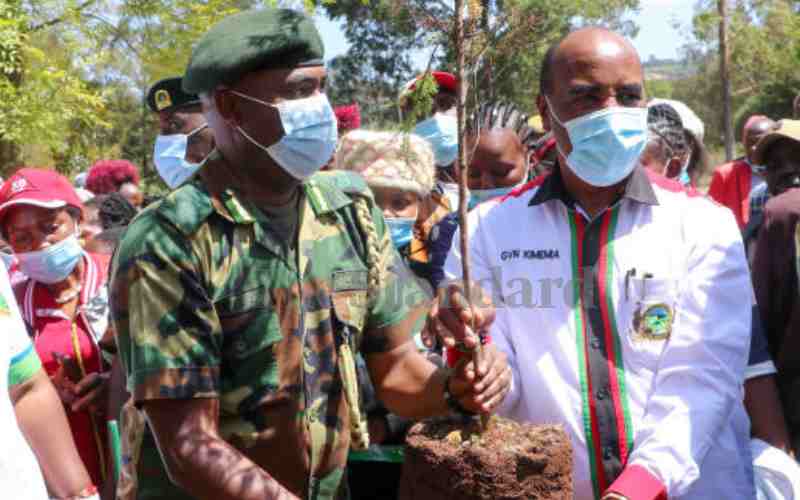 Nyandarua Governor Francis Kimemia has called for the development of a legal framework that will ensure counties benefit directly from revenue derived from forestry resources.
Kimemia noted that since forestry is one of the devolved functions, counties should be able to reap from the enormous resources that come from the natural resources within their jurisdiction as they are heavily involved in their protection.
"I call on Kenya Forestry Service (KFS) to work closely with the respective department in the actual transfer of these functions so that the counties can also reap from these resources," said the governor.
He made the remarks during the signing of the Transition Implementation Plans (TIPs) between the county and the national government in an event attended by Chief Forest Conservator Julius Kamau in Nyandarua yesterday.
Once TIPs is operationalised, he said, several decisions regarding forests will be handed over to the county governments.
In the agreement, matters of forest governance, national standards of forests management, and utilisation of products would be done jointly by the national and county governments.
During the function held at the Arboretum in Ol-Kalou, the governor, however, noted that the cost of implementing the new agreement would be enormous bearing in mind that some devolved functions were done without adequate development of skilled personnel to counties.
"This has greatly constrained implementation of devolved functions, especially extension services. The deficit in KFS workforce in the county and constraining wage bill further complicates this matter. The county is employing few foresters but will certainly need more," Kimemia said.
The governor who chairs the Water, Forestry, and Natural Resources Management committee at the Council of Governors (CoG), appealed to KFS to continue assisting in capacity building in counties so that the services can continue progressing unhindered.
On his part, Kamau said action would be taken against those encroaching on forest land especially the Aberdare Forest.
"The law is clear and we will not allow this to continue," he noted.