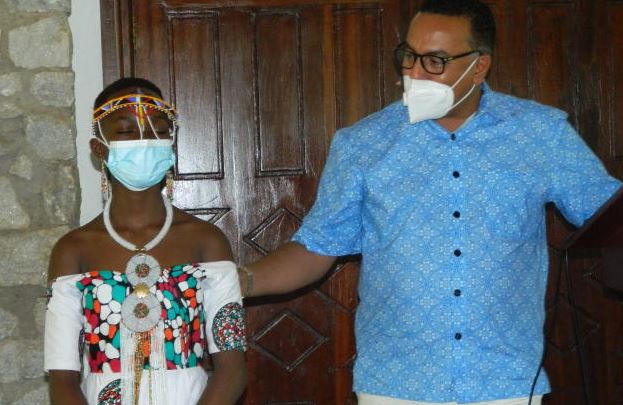 An 11-year-old girl has been appointed an honorary Kenya Wildlife Service (KWS) warden for her outstanding wildlife conservation efforts.
Whitney Omanyo of Nyali Primary School was bestowed the prestigious honour by Tourism and Wildlife Cabinet Secretary Najib Balala.
Mr Balala said the pupil had demonstrated commitment and innovation in wildlife conservation in Tsavo National Park though singing.
In her song, the Standard Five pupil stresses the need for Kenyans to conserve and protect the wildlife heritage that is under threat from poaching, wild fires and widespread environmental degradation caused by illegal herders in parks.
"There is reduction of wild animals' population in the vast Tsavo ecosystem among other national parks in the country. I became patient and I composed the song that has motivated many Kenyans. I feel good," Whitney said after her appointment.
Read More
In her song titled Linda, Linda, Linda, Whitney says she is tired of poachers sneaking into protected areas to slaughter wild animals, with impunity.
"Stop cutting trees because wildlife will flee their habitats. They have a right to be here. They cannot speak for themselves. We have been so cruel to animals," says Whitney in her song that received accolades from the CS and his entourage.
The young conservationist was honoured at the Taita Hills Safari Resort and Spa at Bura in Taita Taveta County during a cocktail party and launch of her conservation song.
Present were Principal Secretary Sabira Kwekwe, Tsavo Conservation Area Assistant Director Kenneth Ochieng', chairman of the Kenya Tourism Federation (KTF) and the hotel director Mohamed Hersi, Hotel General manager Willy Mwadilo and senior Kenya Tourism Board (KTB) officials.
Speaking to the press after her appointment, Whitney said she would carry the message of conservation to fellow Kenyans, especially to communities living near the declared wildlife reserves.
She, at the same time, said there was need to exploit the available natural resources in a way that prolongs life and raises quality of life for Kenyans.
"The conservationist will continue encouraging her peers in school and outside to conserve wildlife and environment," said Balala.
She becomes the second learner to be appointed by the CS. Balala recently named a secondary school student an honorary warden for her conservation efforts.
"Appointment for other honorary wardens was recently revoked by the CS. We only have Whitney and another student from Mount Kenya region that was recently appointment on a three-year term. The process to recruit new ones is still going on," said Mr Ochieng'.
Under the Kenya Wildlife Conservation and Management Act, honorary wardens are expected to assist and advice the Kenya Wildlife Service on general wildlife and environmental conservation matters in their counties.
The honorary wardens, charged with further championing the conservation of Kenya's flora and fauna, will serve for three years by way of raising awareness on importance of wildlife conservation.
They will be Kenya's wildlife ambassadors and help raise funds to keep the country's national parks thriving.
Honorary wardens are not expected to be in the parks on a daily basis, but play a huge role in raising the profile of wildlife conversation and pooling resources.
While welcoming the appointment, Mr Hersi said Whitney had been passionate about wildlife conservation.
Other renowned conservationists include Isaac Kalua and Kuki Gallmann. Gallmann has previously been shot and wounded by an organised gang in the Laikipia Nature Conservancy.
At the same time, Balala said he was liaising with his counterpart in the Ministry of Culture to allocate more resources in the next financial year to promote culture for tourism.
"We are encouraging the partnership with the county executive and assembly Tourism committee to bring on new products," said the CS.
He said in 1970, Tsavo was the most famous park, adding that the government was coming up with a clear structure to revamp Tsavo East and West National Park in order to revive tourism activities.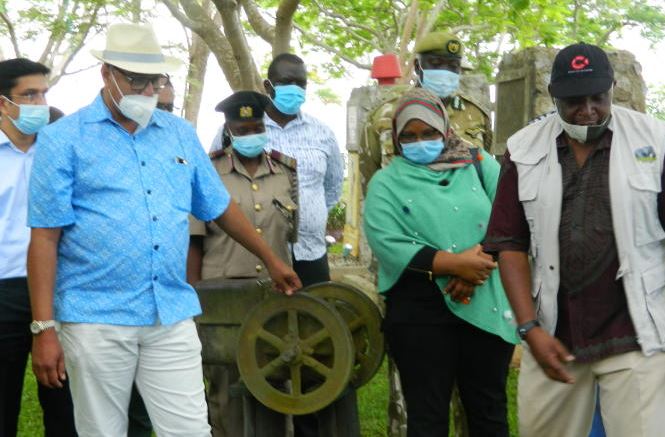 Rundown infrastructure
Hersi disclosed yesterday that apart from rebranding Taita Hills Safari Resort, 21 culverts were also being done by local contractors to improve the rundown infrastructure surrounding the over 28,000-acre sanctuary.
"We are marking the sanctuary to be good for the tourists and we are targeting business from Arusha and Moshi. Domestic tourism is now responding well during the festive season despite the Covid-19 pandemic," he said.
The KTF boss revealed that the German and UK markets had now opened and the country was expecting a big chartered flight with tourists next week.
"We have direct flight from Canada to Mombasa. The opportunities in the tourism sector in Tsavo are immense after the operationalisation of SGR and rehabilitation of the Voi-Mwatate-Taveta international road, which connects the country with the East African states," added Hersi.