Environmental degradation to blame for swelling of Rift Valley lakes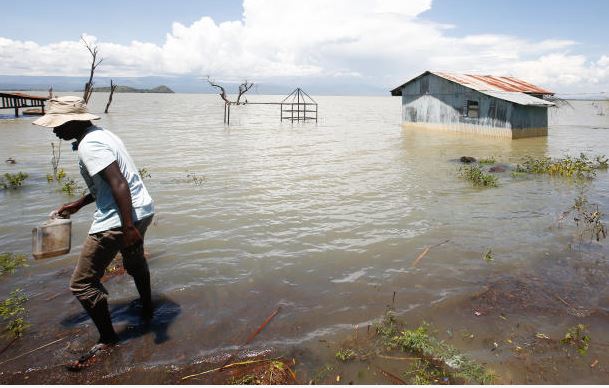 Scientists and environmental experts have linked the current swelling of lakes to continued environmental destruction.
Deforestation and uncontrolled farming on riparian zones are flagged as major causes of siltation that has resulted in lakes breaking their shores.
In the Rift Valley, lakes Baringo, Bogoria, Nakuru, Naivasha, Solai, Elementaita, Kamnarok, Magadi, and 94 have continued to swell beyond the 2013's highest mark, flooding the neighbouring communities.
"We have been studying the behaviour of lakes in the Rift since 1994. It is not only about the overflow but the water that is seeping below the ground to areas which were historically part of the lake," says Jackson Raini, the national coordinator of the International Lake Environment Committee.
In Lake Nakuru, over 200 families face possible displacement as the water continues to rise.
Already, water is seeping from the ground and has partially flooded the surrounding areas.
84 families
Mr Raini warns that the soils around the lake have been saturated with water, resulting in a rise of the water table that has turned some farms into marshy areas.
For the past few months, the lake has spilled into private farms in Mwariki area, which was declared a settlement scheme in 1974.
Area chief Oyawa said at least 84 families had been affected.
"We are concerned by the rising water tables in areas where the overflow has not reached. There has been a drastic increase in the level of water in wells and toilets in nearly 100 homes," Oyawa said.
In Lake Baringo, the phenomenon has led to the killing of a 10-year-old child by a crocodile that lives closer to the community.
Body parts of the child and pieces of his clothes were found along the shores.
The floods have displaced residents of eight villages, covered up two of the seven islands and split one of the largest islands into two.
Rongena and Lokorosi islands have been submerged, while Ol-Kokwe island was split into two.
"The lake has been swelling gradually since 2010 and has since surpassed the highest mark to spill over to the neighbouring villages," Lake Baringo Warden Jackson Komen said.
The story is the same in lakes Bogoria and Naivasha.
Lake Naivasha has merged with Lake Oloiden, with reported increase in the number of hippo attacks around the lake.