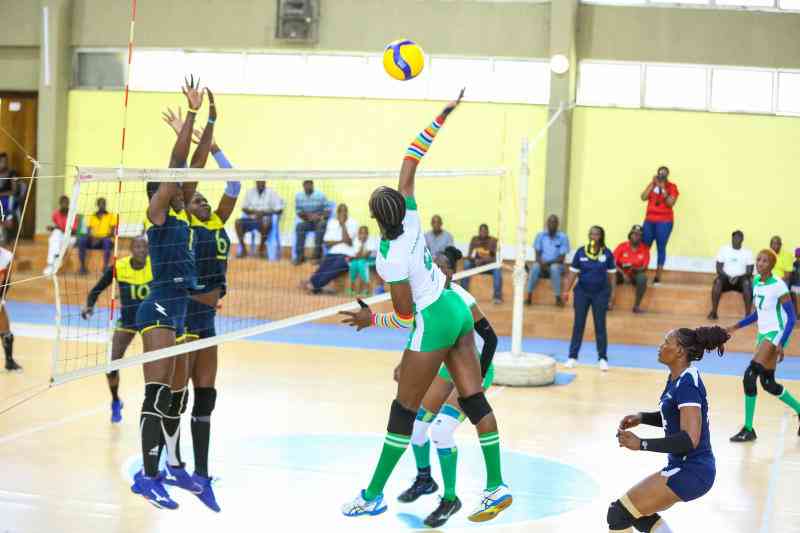 KCB Bank are one step away from the national playoffs after they overcame Directorate of Criminal Investigations (DCI) in the only national women's volleyball league match played yesterday at the Makande Indoor Gymnasium, Mombasa.
The bankers recovered from Friday's 3-1 loss at the hands of Kenya Pipeline to beat DCI 3-0 (25-21, 25-12, 25-16).
Interestingly, DCI coached by Daniel Bor led in all the three sets before the bankers under coach Japheth Munala came from behind to take the lead to the final points.
In the opening set, DCI took a 3-0 lead with Carolyne Orengo and Sarah Namisi terrorising their opponents.
However, enjoying the services of their captain Edith Wisa and Emmaculate Nekesa, the bankers levelled the tally and went ahead to take the lead to the final 25th point.
DCI enjoyed a 3-0 lead in the second set before KCB narrowed the gap to take the lead where Malkia Strikers player Belinda Barasa shone.
The song was the same in the third set where DCI under captain Jane Mumbua enjoyed an early lead before Malkia Strikers captain Mercy Moim, Belinda and Nekesa produced excellent blocks to deny their opponents points.
Coach Bor conceded that his girls did not play according to his instructions.
"We made unnecessary mistakes in all the three sets, which our opponents capitalised on," said Bor.
"We have learned a lot from the match and we shall ratify the many mistakes before traveling to Eldoret for the fifth and final leg."
Munala said his focus is to wrestle the title from Kenya Prisons.
"We capitalised on our opponents' mistakes especially on their poor serves to kill the match," said Munala adding that he expects the playoffs to be tough as all the leagues have prepared well.
The fourth leg is set to conclude today with three matches on the card.
However, DCI is expected to be awarded three points as Kenya Defence Force (KDF) did not travel to Mombasa to honour their three weekend fixtures.
Pipeline is also expected to be awarded a walkover and three points as their opponents and champions Kenya Prisons were nowhere to be seen in Mombasa since Friday.
Kenya Army and Nairobi Prisons both forfeited the Mombasa matches.
Related Topics