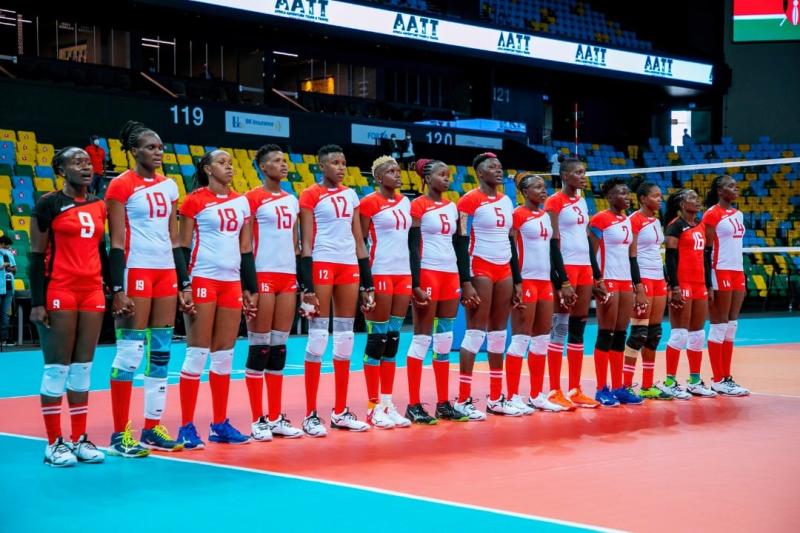 Newcomers Belinda Barasa and Magdalene Mwende have made the cut as the Kenya Volleyball Federation (KVF) released the final Malkia Strikers travelling squad for the high-level training camp in Brazil on Friday.
The duo are among the 16-players included in the national women's volleyball team to the World Championships scheduled for September 23 to October 15 to be co-hosted in Poland and Netherlands.
Barasa and Mwende will battle for starting slots against regulars Edith Wisa, Gladys Ekaru and Lorine Chebet in the middle blocking department.
Violet Makuto makes a comeback after she turned down a call-up during the World Championship qualifiers that was held in Rwanda last year.
The left-handed Makuto will battle for a place with the recently feted Africa Clubs Championship Most Valuable Player Sharon Chepchumba.
Kenya Defence Forces pair of setter Veronica Kilabat and libero Veronica Makokha also made the cut.
Outside hitter Pamela Jepkirui, middle blocker Trizah Atuka, opposite Emmaculate Chemutai and setter Faith Imodia have been dropped.
Opposite attacker Chemtai and outside hitter Masaisai were part of the team that participated in the delayed Tokyo Olympics while fit-again Atuka missed the Olympics due to knee injury.
The 16 players and two officials are expected to fly out of the country on Sunday for two-months High Performance Training in Brazil.
The team will then travel to Serbia to play build up matches with the hosts and Colombia before they leave for Poland for the championships.
Captain Mercy Moim and assistant captain Noel Murambi lead the experienced players alongside Kundu, Makuto, Chepchumba and Wisa.
Traveling Squad
Outside hitters - Noel Murambi, Mercy Moim, Meldine Sande,Yvonne Wavinya and Veronica Adhiambo
Middle blockers - Edith Wisa, Belinda Barasa, Gladys Ekaru, Lorine Chebet and Magdaline Mwende
Opposite attackers - Violet Makuto and Sharon Chepchumba
Setters - Emmaculate Nekesa and Veronica Kilabat
Liberos - Veronica Makokha and Aggripina Kundu
Coach - Paul Bitok, Assistant coach - Japheth Munala
Related Topics