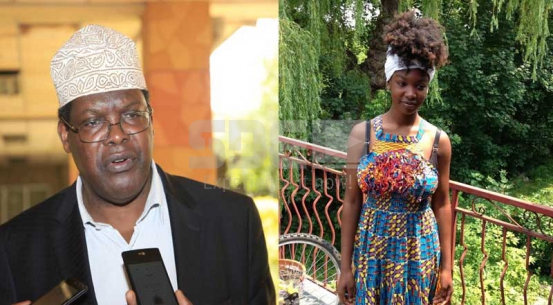 When reached for comment by The Nairobian, Miguna Miguna exploded into an avalanche of expletives. "You stupid dirty scumbags, don't write anything about my daughter. You will see fire," he hissed, then seething, added, "I will not comment to the media on anything touching on my daughter. I will not. You are touching a live wire."
Efforts to reach Atieno proved futile as she did not respond to emails, text messages and her 'business' phone number was switched off.
In his much acclaimed effort, Peeling Back the Mask: Quest for Justice in Kenya published in 2012, the respected lawyer informs us that his first marriage to a Canada based Caribbean born woman, Tracey Wynter ended in a separation after two years.
Miguna started a relationship with Wynter in 1995, months after he had been admitted to the bar. The marriage produced Atieno Juma in July 14 1995, at The Wesley Hospital, when Miguna and Wynter were living in a one bedroom apartment at Chatham Avenue in Toronto.
He had just been admitted to the bar, and couldn't afford a bigger house Miguna says Atieno took time to come. He waited for more than nine hours before the doctor suggested an epidural. He had wanted to name her Akinyi, but his wife couldn't easily pronounce the name, so they settle don Atieno.
His second born, a son, was born at the same hospital in December 4, 1996, barely three months after Miguna had bought his first house in an exclusive Bradford neighbourhood in Canada. He didn't give his mother complications at birth.
In January 1998, Miguna's relationship with Wynter ended and April the same year, he visited Kenya to purchase a posho mill for one of his sisters, as well as buy land in Awendo/Migori area. He met his childhood friend, Anthony Ochieng who introduced him to Jane, who would end up becoming Miguna's second wife.
In April 1998, Miguna again visited Kenya and looked for Jane. He visited her home and met her family and began a courtship that culminated into a traditional customary marriage performed on 6 August 2000. In 29 October the same year, Jane landed at Pearson International Airport and joined Miguna as a permanent resident.
Their first born, fraternal twins were born on 1 September 2001, just ten days before 9/11 while another daughter was born on April 11, 2003.
Related Topics