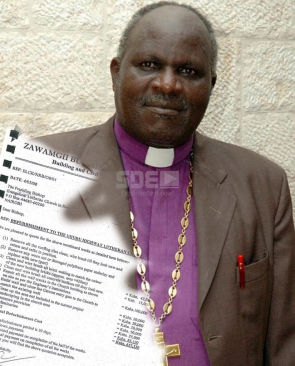 Walter Obare Omwanza, the presiding bishop of the Evangelical Lutheran Church in Kenya (ELCK), is a man under siege amid claims by some of his pastors that he has refused to relinquish power and has instead been looting from the church.
The clergymen claim the Kenyan church, which is affiliated to Lutheran World Federation and the International Lutheran Council, is gradually falling under Obare's leadership.
Documents obtained by The Nairobian reveal a church embroiled in wrangles. So grave is the situation that some clergy from Southwest Diocese and Lake Diocese, which Obare heads, have been sent home.
The pastors claim the church has failed to conduct free and fair elections alleging that Bishop Obare's grip on power has been perpetuated by an electoral body that locks out candidates who pose a threat to the Obare regime.
"According to a letter dated June 18, 2014 from the deputy registrar of societies, Obare's time in office has expired. He was in fact supposed to organise elections within 45 days upon receipt of the letter. But recently, Obare conducted an election in Kapenguria locking out others by use of heavy police force," charged one of the pastors.
"The Bishop formed a company called Zawamgii, which he uses to fleece the church. The company was awarded the tender to renovate Uhuru highway church headquarters under unclear circumstances," one of the pastors told The Nairobian on grounds of anonymity.
It is alleged that Zawamgii's directors include Bishop Obare, John Halakhe and one John Michoro, who are the church's national chairman, secretary and treasurer. More documents allegedly signed by Bishop Obare show that ELCK has repeatedly loaned Zawamgii, a private company, millions of shillings.
Shocking revelations also came from some ELCK evangelist and deaconesses who claim the church has not paid them a dime for services rendered yet the Lutheran Church Mission in the United States sends grants to support the local subsidiary.
Based on the numerous accusations against the church leadership, some of the clergy now wants Obare to resign.
"For eight years, the church has never had a financial report. Money has been withdrawn from church accounts for unaccomplished purposes more than once. Records show that congregations called Siany and Matongo twice benefited from a sum of Sh800,000, where Sh200,000 was twice disbursed in cash and an equal amount in a combined cheque. These churches don't, however exist," said our source.
The Nairobian has also seen emails where the Lutheran Church Extension Fund (LCEF) in St Louis Missouri, USA requests for a loan repayment plan. Correspondence between Bishop Obare, the local church's leadership and the church in St Louis reveal a sad tale of a people struggling to pay a long standing debt.
Larry Crume, Senior Vice President, Loans and Real Estate reportedly wrote: "I received word this morning that your payment of $11,975 arrived. As we spoke about earlier this week, I would appreciate hearing from you early next week how much additional cash can be expected by month's end. You mentioned that you thought about $4,000 was possible. I learned this morning also that the full monthly payment is $16,973.05 if you can get closer to this amount that will be appreciated."
The money was allegedly loaned to Bishop Obare's LCEF, which is a partner of The Lutheran Church—Missouri Synod (LCMS), an organisation that invests in building ministries throughout the world.
The clergy is also questioning why the Bishop allegedly authorised Sh1.8 million payment to Trio Tax Consultants in unclear circumstances bearing in mind that there is a tax waiver for church organisations.
Related Topics