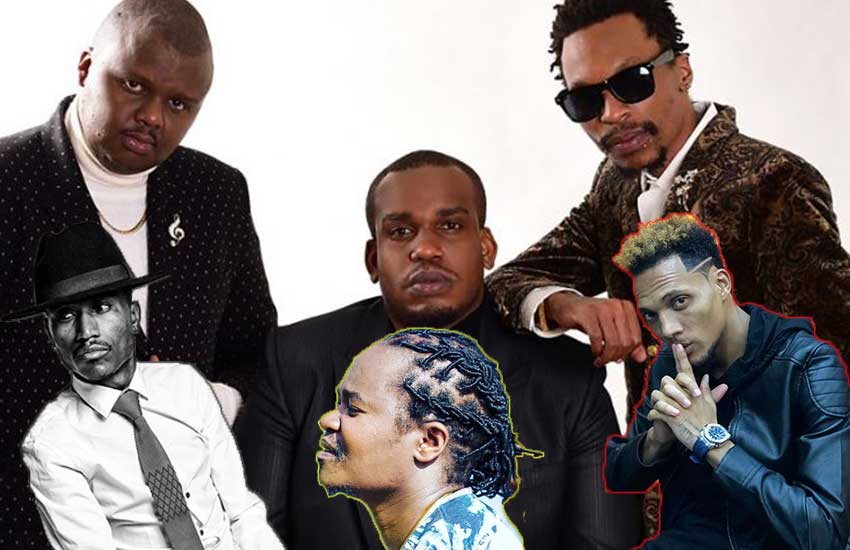 The self-proclaimed Godfather of Genge, JuaCali found himself on the receiving end of some flack this week over his recent collabos with Gengetone artistes, but as Pulse notes, though conspicuous his is just part of an ongoing trend.
Since Ethic's Lamba Lolo hit the airwaves and the Gengetone wave took the Kenyan scene by storm, the fortunes have looked up for new acts in the sheng-intensive genre. There have been many other hits since, easily attributed to Gengetone's easy appeal and attractive, if rebellious, streak.
The jury is still out on the genre's longevity and critics are quick to point out the not-so-clean lyrics but there's no denying the trends and the hits that continue to spread like wildfire.
The first ones to notice this reality are artistes in other genres, who are jumping on the Gengetone bandwagon in their quest to appeal to a wider demographic and court chart success. Established artistes are blatantly hopping on the sizzling hot genre, with Nyoka Ya Shaba being the latest club banger.
This new Gengetone anthem features Jua Cali, Andrew Kibe and Kamene Goro, which possibly explains the dynamic of older generation celebs in a quest to find effervescence and while at it, appeal to the Gengetone demographic.
The Kansoul
The Kansoul have cemented their ground as the 'it' trio with unparalleled prowess to make scorching club-bangers. So, when they teamed up with Ethic on Position, it was common knowledge that they were well aware of their sheer ability to bring life to the dance floor, and that they did.
Read Also: I almost committed suicide after my wife left - Mejja tells it all
Octopizzo
Perhaps plucking a page off The Kansoul's book, Octopizzo enlisted Sailors on his latest catchy record Wakiritho, a sure-fire hit record that sees the two gel their distinct sounds into one irresistible masterpiece.
Read Also: Rapper Octopizzo splashes Sh1 million on designer suit
"I wanted to achieve a song that showcases Sailors as Sailors, so it was imperative that they do not get lost on a hip-hop beat and possibly pass for hip-hop artistes. They did that seamlessly," Octopizzo said when asked how they made the beat.
Krg the Don
The lad seems to have been caught by the craze all too well. He first recruited Boondocks on Mathogothanio, which got rave review among Gengetone heads and critics alike.
Read Also: Meet KRG's Last Born in a family of 30, the Chrysler that cost him Sh8 million to import
As if that was his way of testing the waters to see if it could all work out, he got back at the jump-off, this time with Sailors on Nyandus. The DJ Lyta-assisted track is a club staple right now.
Jua Cali
One would have been forgiven for thinking that the Genge pioneer would care less about experimenting with a new, overtly popular sound, until Wale Mang'aa happened. The song features Odi Wa Murang'a and Ethic's Swat and has been blazing all over the clubs. Be not shocked when more and more pioneer musicians jump on this wave!
Read Also: PHOTO - Jua Cali's wife flaunts six-bedroom mansion, slams haters
P-Unit may be yesterday's news, but BonEye featured in one of last year's biggest turn-up songs Drinkx na Mayenx. After they coined the now almost corny phrase, it swiftly became everybody's street catchphrase. The Eric Musyoka-produced record came out just when the Gengetone sound was exponentially taking over.
The grapevine also has it that Tanasha Donna will feature Ethic in her upcoming new EP that she intimated will be one for the books. The new mom says she is hard at work on the EP, adding that listening to the new music makes her deem two older songs 'trash.'
Related Topics