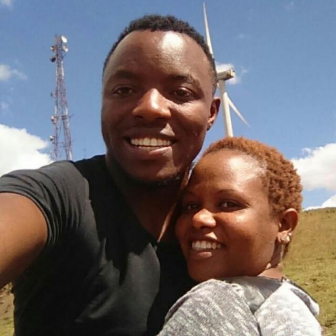 "I was not at Kengeles on Friday. How can a gospel producer be at a club? First I don't even have a hit song or any song out at the moment. I have not even worked on anything lately. I have been on break," Teddy B declares, sounding rather shaken as we delve into seeking the truth; an allegation that he was caught up in a club fight last weekend.
"I know Peninah. There is this lady called Peninah who was beaten up but I was not at Kengeles where it is said to have happened. She only called me saying she had been beaten. That is all," he says, distancing himself from the rumoured involvement in a club fight that was between two lovers, one being his friend.
And he is not alone in this. Gospel singer DK Kwenye Beat saw his name dragged into this showdown that is partly captured in a video clip now in our possession.
Speaking to Pulse, witnesses who claim to have witnessed the Friday midnight drama outside Kengeles, Nairobi West, describe it as an ugly incident.
Bleeding and screaming her lungs out, another witness confirms it was the Gospel producer who went directly for her ex-husband asking why he had beaten her. ''In truth he didn't hit her. She cut herself from the glass. If anything she kicked a certain lady twice. No one put hands on her. Even the manager intervened," another patron reveals.
In the script is one Peninah, a nurse and an ex-lover, the man whose car had glass smashed in the process.
Peninah storms into the club shortly after midnight. She is agitated and clearly up to no good. Charging at the said man, she starts throwing objects towards the man hurling all sorts of insults. "This is my ex-husband," she is heard excusing herself. By now, everything is at standstill.
After the embarrassing scene, the man who is trying to keep Peninah's hands off his body asks to talk to her outside the club instead to displaying it all before other patrons. But even while outside, things don't calm down. Going into an overdrive, she picks up a stone and starts hitting his car. A Toyota. She smashes the windows while shouting and calling the said ex-lover all sorts of names... all this being an account given to Pulse by a patron who was in the safety of his car. By now, onlookers start to film the scene using their phones.
Shortly after, she drives off only to come back later in the company of two men. According to the eye witness, these two guys are Teddy B and DK Kwenye Beat. Teddy B then immediately goes on to confront the man. He comes to the lady's aid, asking why she is being assaulted. More people gather to get a glimpse of what is going on. More camera videos are recording.
Pulse would later find out that Teddy B and Peninah know each other very well for years, eight to be precise.
When Pulse reached out to her she remained tight-lipped about the said affair.
Back to the scene.
DK Kwenye Beat is also dodgy about the said issue.
When contacted, DK confirms knowing Peninah and being present at a certain club on Friday. "Kengeles iko wapi (where is Kengeles)?" he responded when asked if he was there.
"On Friday night I was at Total petrol station. Next to it (the station) there's a club," he plays safe.
After asking him for the exact location, he places the club at the said Kengeles in Nairobi West.
"What is this about? How do I come in? That should be a police case. I don't see why Pulse should call me about it," an agitated DK says before putting our call on hold.
Meanwhile, we head to Nyayo Stadium Police station and here we find the said Toyota car with its smashed windows saying it all. Investigations must be on, right? Keep it here as Pulse gets to the depth of things.
Related Topics