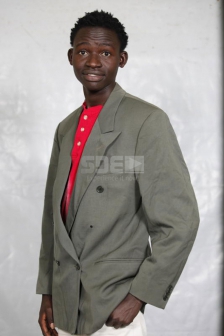 Twenty-three year-old MCA Tricky knows the real life of a street urchin, having lived it for close to three years. Looking relaxed, the lanky young man walks into the Standard Group offices, dressed in his characteristic baggy grey coat, short trouser, a red tie and multi-coloured shoes.
"This is my image," he says with a warm smile after realising, the fuss his 'funny costume' is raising in the office.
MCA, Member of Chokora Assembly if you like, Tricky was thrust into the harsh reality of harsh street life at the tender age of 12, then merely a student from Ikungu Primary School in Makindu, Mombasa.
His peers convinced him to accompany them to Nairobi in search of greener pastures without the knowledge of his parents.
He was idle, frustrated and needed to survive so he agreed, only to realise that life in the city was harder than he expected.
"For three years, I experienced the vagaries of street life in Nairobi's Saika estate, during which I worked as a vegetable errand boy to and from Gikomba market to survive," he says and says that delinquency, hunger and mistreatment by indifferent members of public were a constant companion in this life.
Life offered very little to laugh about but somehow he chose to embrace comedy as a vehicle to numb the misery of harsh street-life, encouraged by members of little-known Barikiwa set book group who often staged show in various colleges.
Come February, Churchill Show came calling and this young man beat everyone in the auditions.
"I was nervous at first but after a few minutes the audience warmed up and burst into laughter," Tricky, who lists fellow rib-tickler Professor Hammo as his role model, recalls.
Even for this MCA there are times when audience doesn't laugh at his jokes. "It is a normal thing considering that every comedian has sets that may not go down well with the audience," he says.
From the anxious lad from the streets of Nairobi, Tricky has since learnt to cope with the situation."
What of hecklers- how does he handle them?
The comedian explains that so far he has not encountered mean spirited hecklers during his shows.
"Most people come to a comedy show to enjoy rather than destroy it from the inside. More often than not, if someone is yelling things during a show, that person is drunk and doesn't realise how loud they are while talking to a friend or perhaps they are just vocally enjoying the show and don't understand that their action is disruptive," he opines.
The last born in a family of three, MCA Tricky hopes to become a mentor to the less privileged including aspiring comedians, advising them to follow their hearts' yearnings.
"Nothing comes easy; it is important to give it your all if you hope to succeed. It is important to keep in mind that life is a battlefield and not a playing ground and being here for a short time we need to strive and make the best of it," he concludes.
Related Topics