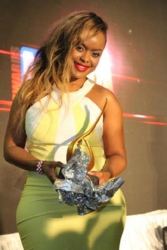 In a 2.30 minutes long YouTube video titled Avril Getting Born Again at the Catholic University a preacher stands between three others, her head bowed. A keyboard plays softly at the background as one of the preachers lays his hands on her and starts to pray.
"...I now begin a new life. I will shine in you Lord. Thank you for saving me, in Jesus holy name I pray, amen," the preacher leads Avril through, this being a common confession pray used by many pastors when one is accepting Jesus to be their saviour.
Avril hardly says anything audible. Her head remains bowed as the congregation cheers in ululation and clapping.
The man of cloth goes ahead: "...God, that you will bless her, touch her in a special way. I pray for your presence upon her. That you shall use her in a might way, in the whole world. And that she shall motivate many people to receive Christ through her song," he prays on before the lady pastor takes her turn to pray on. Still, Avril neither says a thing, nor shows emotions. She just smiles and waves at the crowd.
And all week, Avril has evaded the media leaving everyone in speculation as to whether she actually meant to get born again. There have been mixed reactions from friends and fans, secular and gospel artistes in equal measure, each trying to give their interpretation.
The truth is, Avril was viewed by many as Size 8s main music competition before Size 8 got born again about two years ago. They are both youthful, talented, energetic performers with the X-factor that makes an artiste cut own niche in the business.
Back then, Avril was riding on the popularity of her 2010 Marya Ogopa Deejays produced video Chokoza while Size 8 was winning everyone's attention with her Vidonge hit that introduced her now popular energetic 'mateke' dance.
And so when Size 8 saw the light, Avril seemed to have a free platform to run the secular music industry something that has not happened before. On the contrary, her music career seemed to have been affected by the Ogopa Deejays shock decision to fire all its artistes whom she was part of, after which she registered with Rabbit's Kaka Sungura Empire recording stable.
Her latest released Nikimuona (2014) and Hello Baby, a January release featuring Ommy Dimpoz did not get as much media attention. Besides, aside from pushing her music career, Avril has had a quiet for three years, a factor that has raised speculation as to whether she has picked on acting as her first love.
And with the new development, one would wonder if Avril's move to get saved (if she really did) had anything to do with frustration in the secular world. One would also wonder whether she is simply moving to the gospel world like many secular artistes have done as it has proved to be a more favourable platform for many.
If so, a new parallel would be drawn between her and Size 8 afresh. Would this new competition ignite a new spirit in the 'slowing down' gospel industry and still, where would this leave the secular fraternity? Avril would be joining a park of gospel stars among them Lady B, Size 8, Gloria Muliro, Ruth Matete, Kambua and Dee, artistes who are already a commanding force in gospel industry.
"Well, am not sure if she got saved or not but a move like that would be welcomed. I can't say much as I am not sure if what people are saying is true and I haven't yet talked to her about that," Size 8, who released her new video, Afadhali Yesu, this week told Pulse. Afadhali Yesu is Size 8s fifth release following her 2013 turn around. Her other gospel songs include Mateke (2013) and Jemedari (2014).
Related Topics