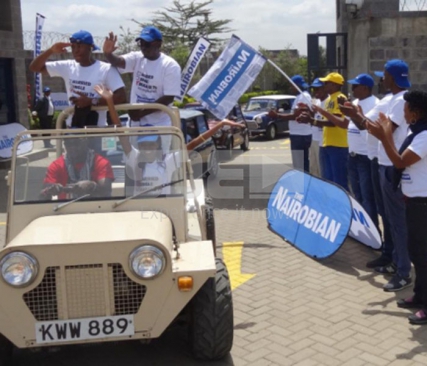 As early as last weekend, entertainment joints, lodges and hotels in Machakos town were reporting booming business as this year's Masaku 7s rugby fever hit the Eastern town.
Dozens of celebrities among them Frasha, Shaffie Weru, Big Ted, Rabbit, Fena, Gabu, Amos and Josh, G Money and DJ Poison Ivy led hundreds to a grand concert at Club Euphoria within the magnificent Gelian Hotel, as the new joint opened its doors to fun lovers ahead of the big rugby weekend.
The mood had been set after a convoy of classy rides had been flagged off at Standard Group headquarters, bringing business along Mombasa Road and Machakos highway to a stop. See, Masaku 7s is huge and now there is a new adage on the same: "Whatever happens in Machakos remains on Mombasa Road".
Hotels have been fully booked, the Machakos People's Park has lined up 72 hours of non-stop entertainment activities, the Kenyatta Stadium has set up a number of entertainment villages and the Machakos rugby stadium is looking all new. Alas! Let there be action. It is party time, guys.
The Rugby Action
For a minute, forget all about the parties and bevy of beauties expected to throng Masaku because the real fun will be going down at the stadium where the rugby warriors will be putting forward their best men to try and garner first place in the tournament. Blood, sweat, tears and emotions such as those of hope and dismay are also expected to fill the stadium.
On the road
Don't be caught in the traffic nightmare as many did last year. Leave early. What many people don't know is that there are several alternative routes to Machakos besides the highway. Ask someone... besides, you can still fly in.
The adventure city that is Machakos
Many have been accused of being selfish to the extent that whenever an opportunity to ditch our CBD arises, we embrace it like it is all we had been waiting for. Rugby is the adrenaline game that defines real men. This time round add to it great music, drinks with your clique of best friends and nyama choma... all these, out of town. Above all things, going for Masaku 7s is treating yourself to an adventure in Kenya's new entertainment city. I mean, this is Machawood; where entertainment lives.
You get a chance to visit the new Machakos People's Park among other tourist attraction spots that make the town a spectacle to behold.
The sleek, fast and furious
Some will steal their father's cars and go flossing to their friends, play booming music and flaunt their girlfriends as if they were on sale; that's OK. Masaku 7s is all about floss and swag. This is where you get to parade all the hottest pimped-up rides in town; from vintage classics to convertibles ... the works.
Don't tell your girlfriend that you are taking a matatu to Machakos! That will be the end of the relationship. Hire a car or something. You are going for Masaku 7s!
Sleep in the boot...on the grass
Get yourself a good camping tent please if you haven't gotten a hotel room as yet. We hear the nearest available rooms are now 35 kilometres off the main road. Besides, do guys really care for sleeping if they can get a place to refresh the next morning and keep the party going on? Well, here, guys are used to sleeping inside their cars (that is one reason you need a car), or on the grass. Camp fires do help in keeping Masaku 7s alive.
Where the parties are
Rugby events are known to play host to the craziest of parties and boy, do we Kenyans love to party! Last year's tournament saw international artistes fly in just to give the fans the time of their lives and judging from this year's line-up, it should live up the expectations of being bigger, better and bolder. But it is easy to miss out on the big gigs as every club and brand is trying to push patrons into their establishments. Survey the party village and get the party programme right before you start indulging. Morning comes really fast. You may find yourself feeding on reports that Jay Z was in town while you were attending a small party in that ka-local.
Ladies and the trends...
It should be beauty galore at Masaku with ladies of all shapes and sizes coming through to cheer their teams and 'chokoza' the guys. And well, Team Mafisi is waiting to pounce so beware!
Masaku 7s is all about making fashion statements and proving you are in the 'it' crowd as you showcase the latest fashion.
Related Topics