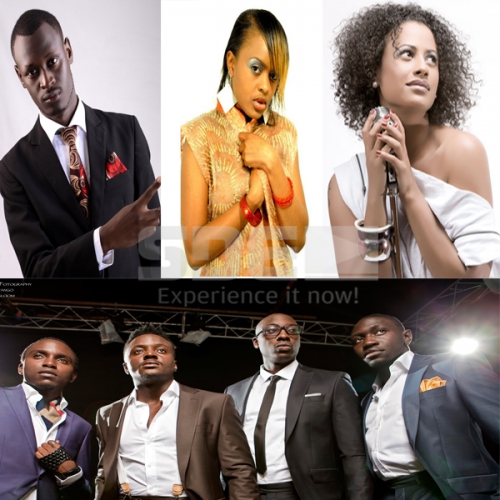 After attending a music concert held at the Sarakasi Dome last weekend, a celebrated hip-hop artiste who has a hit enjoying good rotation could be heard begging for Sh100. Even after being thronged by fans and admirers seeking his autograph thanks to his celebrity status, the poor chap did not have fare to go home.
His buddy, yet another established star did not have much either. As their friends got into their expensive cars, the two stars split Sh100 and walked down street to find their way home.
Another one, a leading gospel singer, had his property auctioned due to rent arrears while another had his car auctioned. Yet another was arrested and put behind bars after he was found with stolen property.
The music industry, and the entertainment sector in general, is arguably one of the richest sectors in Kenya right now with the Music Copyright Society of Kenya (MCSK) alone collecting over Sh360 million in royalties on behalf of its 10,000 members. Premium rate service providers (PRS providers - also called content service providers) are making an average of Sh60 million, each, a month, from call and ring back tones thanks to local music hits.
And as radio and TV stations implement the 60 per cent airplay rule with an estimated 84 local songs playing on our stations every day; forget the concerts and album sales, our musicians should be the rich lot, smiling all the way to the bank. Yet only few are.
"An active Kenyan musician should now be living a comfortable life making about Sh100,000 without much of a hustle per month. When you start thinking of the airplay and the cash coming in from the digital platform, on cannot see why an active artiste cannot make Sh200,000 per month. Let us just say that our artistes are getting short-changed by the big sharks in the industry. I don't have to give you the names. You all know them," says Daniel Mothoka, a showbiz critic.
"PRS providers are actually ripping off artistes thanks to their ignorance. For example, they pay about Sh400,000 in licences to MCSK, yet most make over Sh60 million per month. Guess how much of that goes back to the artistes whose songs are used to make the cash? Really, something must really be wrong," remarks Jerad Getanda who was vying for the Nairobi Director MCSK seat this week on the platform of fighting for the financial benefits of the over 3,600 MCSK Nairobi region members.
The music industry is said to be worth billions of shillings with the digital platform becoming the new frontier through which artistes can create wealth.
"We have left people who are not players in the industry to come and take over all the opportunities and that is fine for them as that is business. We need artistes and the other players within the music industry to come together and solve the issues from within," says Bernsoft CEO Bernard Kioko, one of the directors of the newly formed Music Industry Association.
"Many times, artistes jump up and protest that Safaricom is 'eating' their money before they look into the real issues. The truth is, there could be issues and Safaricom has been very positive about asking music bodies to first put their house in order," he says.
Over the years, artistes have been complaining about transparency in the way ringback tones and music download money is shared between themselves and service providers.
Basically, most online music download platforms charge Sh20 for a download.
PIRACY
The platform selling the music pays 16 per cent of the revenue as VAT and 10 per cent as excise duty. Another amount goes to the person who provides the short code. What is left is then shared 50-50 between the music owner(s) and the PRS provider. That could leave an artiste with Sh2 per download.
In the case of ringback tones, the network pockets 85 per cent after taxation (VAT and excise duty) is done. 15 per cent is what is passed on to the music owner.
It is no doubt, the ratios are by far unfair to artistes and one of the biggest loopholes through which their millions are getting lost.
Safaricom's Skiza has seven PRS providers that are among over 100 PRS providers licensed by the Communications Authority of Kenya (CA).
Pulse can confirm that some of the PRS providers don't submit money to artistes just as is the case with some broadcasters. Besides all that, there is piracy to contend with and that is where most artistes' are losing money. Yet, the music industry lacks a proper policy to deal with all these issues. It all boils down to copyright matters.
"That is why I have gone to court. We have signed a petition to blacklist any download company that is pirating music and for that matter exploiting our musicians. We have also instructed the Kenya Copyright Board (Kecobo) to come up with a law that deals with this.
The three collective management organisations (CMOs); Performers Rights Society of Kenya (PRISK), Kenya Association of Music Producers (KAMP) and MCSK are spearheading this and the music policy draft is almost ready," notes Kioko.
According to documents in our possession, after collecting Sh360 million in the last financial year, MCSK submitted Sh1.4 million as taxes. And for the first time, top earners took home over Sh1 million in one classification period. That notwithstanding, most artistes remain ignorant as to how cash generated through their music is shared.
"Our doors are open to all our members who have the right to access and question how their royalties are distributed, yet many artistes remain ignorant, some just complaining on the streets before coming to the offices to verify details," says Maurice, CEO, MCSK.
Music producers and stable owners are also short-changing artistes thanks to their ignorance by signing contracts that see record labels pocket all the cash that is raised from music downloads and ringback tones.
IN THE DARK
Some producers rush and register a new song as theirs, locking out the artistes and others involved in the song's creation. That way, the artistes don't make anything from the song even as it enjoys media rotation and thousands of downloads. This is one of the biggest issues facing upcoming musicians.
"Out of the 10,000 registered musicians, you can only count up to 100 who know their rights; stars like Juliani, Nameless and the like who can walk into Bob Collymore's office and put questions on the table. Go to the other towns outside Nairobi and see how artistes are in the dark. Someone needs to educate them," notes Kioko.
"Artistes don't have huge amounts to advertise their content and so you must also credit the person who is trying to keep them visible. Let us not just blame the download people who are also trying to keep the artistes relevant as they also contribute in improving the welfare of the singers," he concludes.
However, there is an awakening as artistes in different regions start forming groups so that they can speak in one voice. Recently, artistes in Kisumu registered their own association while the industry leaders in Mombasa also formed theirs a month ago.
Related Topics