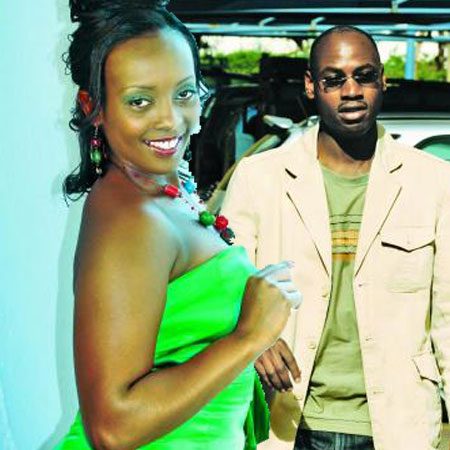 It was a distress call! As the night was falling that Monday, May 20 last year, celebrated comedian and young investor Walter Mong'are broke the unusual news to Pulse.
It was a lead to his own marriage woes with singer Linda Muthama, his much-popularised second wife. Their marriage was on the rocks. From his tense tone, you would tell things were thick.
And it wasn't until a week ago that Linda finally broke the silence about the marriage break down, about nine months after she moved out of the Lang'ata house where she had been staying with the father of her baby Laika.
It had been a love affair born from music, a fairy tale of two celebrities, a story of an artiste and a manager turned man and wife, a second wife indeed who came out confessing her love for the married man.
But it was early last year when, according to Nyambane, cracks started to appear in their marriage. He had moved to Kisii County where he had landed a lucrative job as the Director of Communications when things started falling apart.
Nyambane claimed that he knew of a brewing love affair between Linda and a politician's son. The guy comes from one of the big political families in Central Kenya.
On Nyambane's phone were mindboggling text messages exchanged between him and Linda. "I am not your wife and he owes you nothing. He is speaking to the cops and lawyers. If this connects, he can spoil more than you. Please keep off," one of the messages, allegedly sent to Nyambane read.
Also on his phone were screen shots, again allegedly taken from Linda's phone, evidence the comedian claimed was his proof of the brewing romantic affair between Linda and the man from Central.
"Sweet, I can't pick up. I am seated in front of the stage faced by 400 people," one of the texts that bore the politician son's name read.
"Why are you mteja...Why can't I stop thinking about you...I can't imagine I really want to talk to you. Then your phone is off. I'm so sad...I really miss you...," the chain continued.
We still have the messages in our possession.
The man who studied abroad holds a high title at an international marketing firm. He is also a motivational speaker.
Ironically, the messages had no reply and according to Nyambane, the man was probably not so into Linda and only seemed keen to have a clandestine affair.
The two men even had a gentlemanly conversation during which the politician's son said he was not interested in Linda.
"I am reporting this to you so that in case something happens to me out of the threats, you will be in the know to tell the world," Nyambane told Pulse before going ahead to record a police statement on the same.
But even after calling a truce, the couple's bruised love affair was never to heal.
Unconfirmed reports have it that Nyambane stopped going out for the couple's Altimate Music Band's weekly concerts after finding out that the man in the alleged love triangle was being hosted frequently by his wife.
Following the disagreements two projects the band had planned, one of them an overseas tour, were cancelled.
And as fate would have it, Linda eventually moved out of Nyambane's life and kept a low profile away from prowling paparazzi.
"Yes, I moved out about a year ago and I have been living in Nairobi West. We are no longer together," Linda, who has also started ministering in church revealed to Pulse this week.
"I love talking and I had no one to talk to," Linda told Drum Magazine during an interview on the break-up adding that even if the two are no longer man and wife, there is no bad blood between them.
Her mum told her to ensure that Laika still maintains a good relationship with the dad even after the breakup.
Linda further said Nyambane's life was divided between her and his other family, something that did not work for them.
Without giving details, she said she did some ungodly things but that is now behind her adding that she is ready to love again.
Related Topics