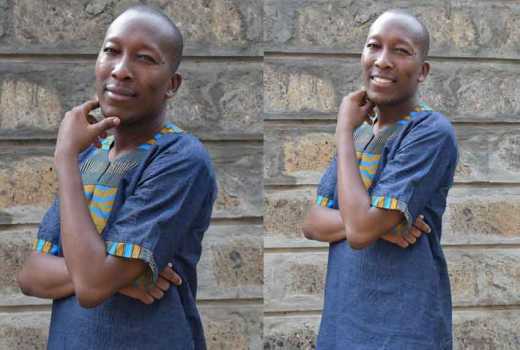 James Kago, 35, was born with haemophilia, and as his experience has taught him, it is manageable -- but it is a very expensive disease.
My mother and grandmother discovered that I had haemophilia when I was barely one-year- old. They discovered it when I started crawling and during my teething years. When I started teething, I could bleed a lot in the gums. And if I bit myself even a little bit, I would bleed more than necessary.
While crawling, I would experience a lot of swelling on my knees, wrists and elbows. Usually my grandmother would take me to the local dispensary, and the clinical officers would draw out blood thinking it was pus. Every time that happened, it would be followed by more bleeding.
My grandmother, who had worked at Mater Hospital at some point, decided that I should seek further medical advice at Kenyatta National Hospital. There, a haematologist did some tests which revealed that I had haemophilia A, a severe form of haemophilia.
A life of being 'careful'
The haematologist recommended that I be put on special care. This included not playing games that would put me at risk of getting injuries, bumps or bruises. But being an adventurous child, I wouldn't hear any of that. I would go out and play rough games just like any other boy my age. But in the evening, endless bleeding from small cuts and bruises would start would start. The severity of the bleeding would depend on the magnitude of the injury. For example, if I had hurt my knee, it would bleed longer, maybe even up to a month, again depending on how hard my fall would be. An episode would leave me feeling very weak.
The only treatment option I had was whole blood transfusions. A non-haemophilic person's blood has clotting factor 8. This factor would help stop my bleeding until the next episode.
Genetic
My grandmother was the haemophilia carrier and her daughter, my mother became a carrier too. Haemophilia is found in the X-chromosome. Which means that my son will not get the gene from me but my daughter will. I have a daughter. Chances are high that she is a carrier.
Management
Diet-wise, there is nothing I can do to manage haemophilia. All I need to do is avoid medications like aspirin. In the local health insurance market, companies will not give you health cover if you have haemophilia. They say it is an inherited condition or what they technically refer to as congenital conditions.
One of the many interventions we have done at Kenya Haemophilia Association is printing medical cards for our members. In the event of an accident, these cards help first responders to identify that we have haemophilia, and gives them the steps that should be taken in case of First Aid.
Disabling
Haemophilia is a disabling condition. You bleed too much from your joints, and those joints become immobile. And sometimes they become weak because of wearing out of muscles. What happens is that you find that you are not able to do much, making you not so productive.
Today, the treatment of haemophilia is pretty easy. If I go to the hospital with an external bleed, and I am given via injection the clotting factor 8, within 10 minutes, I will be on my way home.
That said, it is a very expensive treatment. The Kenya Haemophilia Association is trying to lobby the government to buy the factor for accessibility by patients. Usually, one requires an average of between Sh300, 000 and Sh500, 000 worth of the factor every month. This means that only a few people can afford it. It means that many people bleed to death because they can't afford treatment.
Related Topics