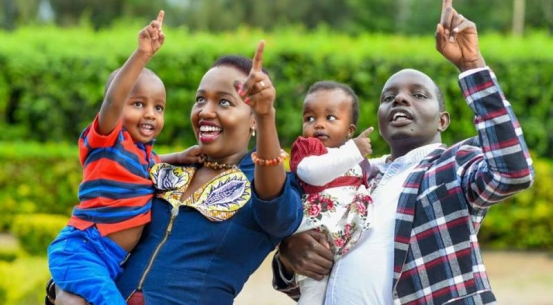 "My kindness got me a wife," Anthony begins. He was living in a tiny bed-sitter in Kileleshwa in 2009 when his friend Isaac called him with a request. Isaac's friend had relocated from Eldoret to Nairobi and was trying to settle in.
She needed help moving from a friend's place to her own house somewhere around Lavington that evening. Unfailingly kind, Anthony said yes.
When they met that evening, he was greeted by one of the most breathtaking sights he had ever seen in his life. "I saw Isaac walking down with her and thought, 'What? My goodness! She is so beautiful!' I was hit by an instant crush," he says.
"It was raining and it was getting a bit dark but in my heart, right there and then I saw everything I had ever desired in a wife." Back then the qualities he admired in girls were hair –well done and mostly natural, and pretty feet.
She had just come from the salon and was in sandals. She scored highly in that department as well.
They all piled into his small Nissan Sunny after introductions. "My heart was beating so hard," says Ndiema. However, there was a problem. He had not spoken to Isaac in a long while, so he did not know if the woman, Chepng'eno Kilel, was his girlfriend.
Coincidentally, the car got stuck in the mud along the way, much to Ndiema's delight. "I was praying that we got stuck the whole night," he says, laughing.
Unfortunately, they did not, and the rest of the move went smoothly. He was however determined to find a way to drag on the evening.He decided to invite them for supper at his place, where he ensured that his brother who was living with him would have a sumptuous meal ready when they arrived.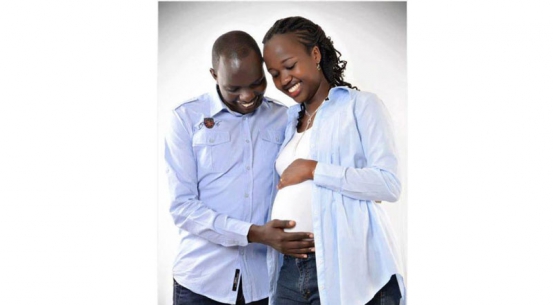 "In my mind I was thinking, 'My God, where did this woman land from?'" he says. However, her mind was preoccupied with how much money Ndiema was going to charge her having helped her move. Then, he was a presenter at Hope FM.
As he gave them a ride back home, she asked for his number and said she would call him while in studio to request for a song.
"I think I gave her seven business cards so that if one got lost, she would have others," he says. She then asked how much she owed and was stunned when he said, "Just say 'God bless you.'" She was amazed that anyone in Nairobi could do that, having had the notion that in Nairobi one had to pay for everything.
Ndiema then waited eagerly for the rest of the week from the beginning to the end of every show for her to request a song on the radio but she never did. His heart sank.
He did not have her number.
He finally accepted that she was not going to call, and decided to move things along much faster. He called Isaac and asked how everyone was doing without mentioning her name, but Isaac said that they were together at Kencom.
The question of whether she was Isaac's girlfriend was suddenly answered and he gave up.
That Friday, Isaac invited him for what they called an ugali date where they would also learn guitar, and Chepng'eno, would be present.
Towards the end of the session, he asked for her number and she apologised for not having called the studio, and later in the week finally called to request the songs.
The three had agreed earlier that they would be meeting every Friday but Isaac was unavailable one particular Friday and he suggested that Ng'eno goes to Ndiema's place for the ugali date.
As he took her back home, he finally asked if she was Isaac's girlfriend and she exclaimed that she was not.
He then started wooing her over the following days and after he officially asked her out, she agreed to be his girlfriend on their first date two weeks later at Paradise Lost in Kiambu. This was mid-2009.
A large portion of their relationship would be long-distance because Ng'eno relocated to Molo due to her job. He would drive to Nakuru every weekend and they would spend time in places like Lord Egerton Castle, mostly on non-expensive dates, talking for hours.
"There are days when I would not afford fuel and her father would give us his car to drive around," he says.
They started planning for their wedding in January 2010 and wedded on 13 December 2010 in Citam Karen in Nairobi. They now have two children; Joshua Ndiema, 4 and Tehila Imanda Ndiema, 2.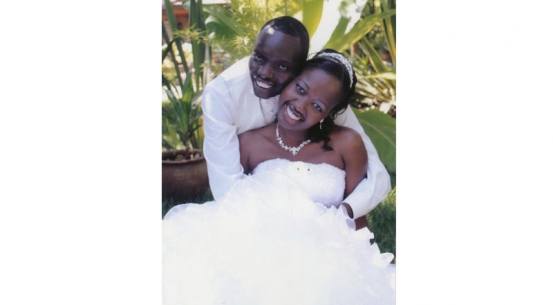 Related Topics