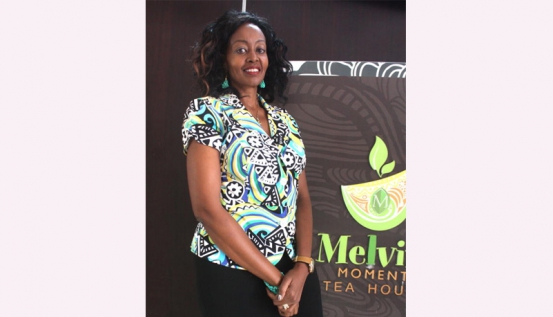 In July 2016, Flora Mutahi became the first ever female chairperson of the Kenya Association of Manufacturers (KAM) since its inception in 1959. She is also the CEO and founder of Melvin Marsh International, which is behind the Melvin's Tea brand. She has run the business successfully for over 20 years and having stood the test of time, she shares what she has learnt over the years.
Don't be a cookie cutter
My parents were seasoned entrepreneurs and my mother would always tell us, "Do not go down the beaten path. You have to stand out." That means that in everything I did, I had to find a different way of doing things that nobody else was doing. When I ventured into the tea business, Ketepa had almost 100% monopoly over the tea industry. I chose to focus on flavoured tea, which was not available then and I began with my favourite; ginger tea. True to my instinct, the ginger tea quickly gained popularity and outsold my other plain tea brand. Then we went on to create finesse with all the other flavours.
Know what you want
I walked away from accountancy when I found out what it is I wanted to do with my life. Make a plan and go for it. I was taking an accountancy professional course at Strathmore and I would skip classes a lot. My heart wasn't in it. Then I met someone who told me to be honest with myself and have the guts to walk away if it was not my thing. So that's what I did. With no regrets.
Know your stuff
You have to be up to the task. When I started out, Kenya did not have free-flowing salt, so I decided to venture into making it. I went to the University of Nairobi and got someone to teach me some food technology so that I could grasp what it entailed. I would report daily as if I was going to work. I then looked for machinery and got funding. I did the same with tea making. As soon as I decided to go into tea business, I went to Mombasa to learn everything about tea and packing..
Take risks
If I would go back in time, I would take bigger risks. Women need to learn to take risks. We are so happy being in the background and letting men take the risks. I have now started Melvins Cafe, which aims to introduce a culture of drinking tea outdoors in Kenya.
Speak up
You have to stand up for yourself. Be heard. I can have the best idea in a group and I just do not want to voice it because we are conditioned to think that men can say things we can't. Learn to speak and be heard.
Always show up
You have to network. When women are called up to leadership positions, we have a habit as women to say no. It's back to conditioning – 'I do not have the time, my children....' etc. What I try to do is say 'yes', and then see how I am going to work around it. Then negotiate your terms. Let them know what does work or won't work for you.
Know your limitations
Realise what your limitations are. You do not have much time. Find the most important things and run. Find a solution. For me it is just a constant struggle of 'what smart can I do?' Family is my priority, so sometimes I have to think of how to be smart at work and accomplish tasks without having to be physically present.
Fail fast
It is OK to have an opinion that is wrong. As women we tend to be unforgiving to ourselves. Do whatever you have to do in the background, like questioning yourself, which I still do, but learn to just get over it fast. Don't be afraid to make mistakes.
Read up
I always say that being an entrepreneur is the school of the hardest knocks. All your mistakes are your own, so learn to be tough, and grow. If you are not growing, you are dying. I am always reading books on areas that I feel I want to improve. Get people to walk with you along the way and guide you. One of the reasons I have reached where I am is because I have no shame in asking questions when I need to.
Take your seat at the table
Today, people are looking to the women's voice. People have been sensitised about bringing everybody to the table, including the youth. It is getting easier. Times are definitely not as when I started out. Back then, I would be told that I would never get married. I would be asked why I was starting a business before starting a family. There was nothing I was not told. Nowadays a woman running a successful business is no big deal. The environment has changed positively and we want to see more women coming to the table.
Related Topics