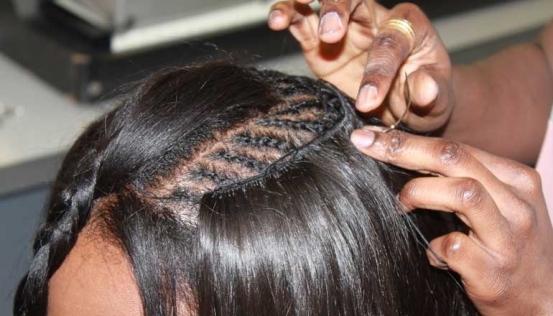 Picture this scene: A beautiful woman coming home from the salon. She is happy and in high spirits-looking pleased with the hair on her head. The beautician has done a fantastic job and the woman is reveling in it.
She goes to sleep that night and is woken up in the morning by the itchiness of maggots falling off her scalp. This is the stuff horror movies are made f.
According to some news reports, this-or something similar-did happen to a Kenyan woman named Irene Myangoh.
Irene's story broke between O9ctober and November in 2013 and was first carried by a nondescript website before being quickly picked up by Daily Mail and the Huffington Post.
But is a maggot infestation from hair extensions really possible?
"It is a possibility but not quite plausible," says Muli Musyoka, a trichologist at Hairclub Clinic in Nairobi.
"The hair industry has strict guidelines and strong manufacturing standards. Human hair-extensions go through stages of treatment and processing so that they are clean and healthy for use."
Muli admits that counterfeit products may contain lice, fungal spores, parasitic eggs, and pathogens of different kinds. These will cause disease that may cause hair loss as well as irritation and pain.
According to Dr Eliud Monda, a privately practicing dermatologist, hair infection can spread from one person to another through sharing wigs, braids and synthetic and human-hair extensions and weaves.Contact between a career of a pathogen and a healthy person will result in infection.
"Transmission of scalp infections occurs in the same way as skin infections," Dr Monda says.
Monda says that myaisis-infestation of the skin by developing maggots-is a phenomenon that can occur on the scalp and is common in tropical and sub-tropical climates.
SUNDAY reached out Dr Christopher Musau of Nairobi Hospital who had been quoted in Irene's story. Dr Musau, a neurosurgeon, pointed out that there is no scientific basis to prove the article's claims.
" I read to utter shock that my name and initials had been used in the article. I have never treated any patients with the mentioned symptoms," Musau says.
In Musyoka's opinion, while individual preferences are unique, if women would grow their own hair instead of adding extensions, the majority would avoid problems such as the alopecia caused by the incorrect removal and overuse of extensions.
Related Topics