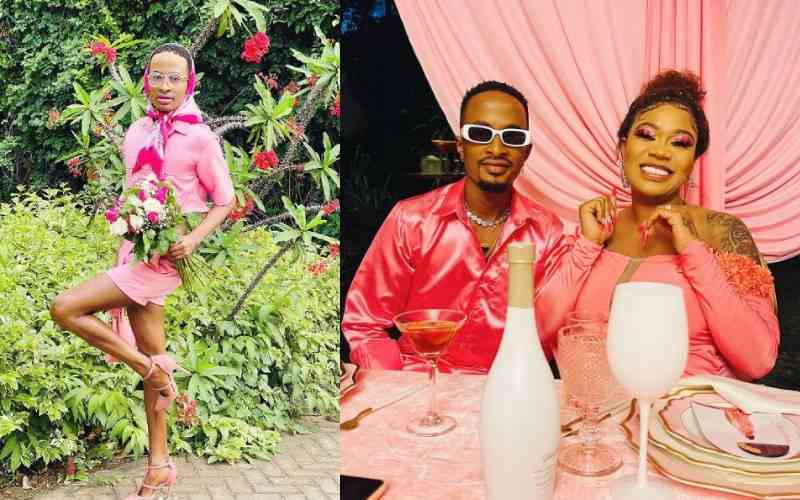 Maxwell Mwamburi, Vera Sidika's best friend, recently extended a heartfelt apology, shedding light on the disagreement that occurred between them.
Taking to his Instagram stories, Mwamburi expressed remorse for his previous statements and clarified the nature of the misunderstanding between him and Vera.
In his apology, Mwamburi acknowledged his role in the drama and admitted to misconstruing the events.
He revealed that his earlier claim of being asked to leave Vera's house in the early morning hours was untrue.
Mwamburi explained, "I apologize for falsely stating that Vera kicked me out of her house. That night, I was simply sipping Hennessy. The argument we had was actually about coming out.
"Vera's perspective was that I could freely express myself through cross-dressing, but she preferred that I do it away from her children until they were old enough to understand gender identities. I misunderstood her statement and overreacted."
View this post on Instagram
Realizing his mistake, Mwamburi says he now understands and appreciates Vera's concern for her children's well-being. He acknowledged that her viewpoint was valid, and he regrets his initial reaction to the situation.
Furthermore, Mwamburi took the opportunity to dispel any doubts about Vera's character. He defended her authenticity, emphasizing that anyone who claims she is fake is simply a hater.
Prior to the public fallout, Maxwell had taken to his social media accounts, expressing his frustration and disappointment towards Vera. He posted a photo of himself and Vera, calling her out for treating him harshly and rudely.
His emotional outburst demanded an apology from Vera, holding her accountable for her alleged actions and words that led him to leave her house unexpectedly at 1 am.
Threatening to expose and criticize her without restraint, Maxwell sought retribution if an apology was not forthcoming. However, during this time, Vera chose to maintain her silence, refraining from commenting on the matter.
Months later, Maxwell revealed in a previous interview that Vera had taken issue with his sexuality, which became a recurring source of tension between them.
He explained that whenever they had meetings, Vera insisted that he wear a suit, a demand he found unacceptable. Maxwell believed that Vera's insistence on the suit stemmed from homophobia, as he enjoys cross-dressing.
Additionally, Maxwell denied rumors suggesting any romantic involvement with Vera's husband, Brown Mauzo. He firmly refuted such claims, stating that Brown was not his type and that he had not made any advances towards him.
Maxwell speculated that Vera's opinions may have influenced Brown's decision to block him on social media.
Related Topics