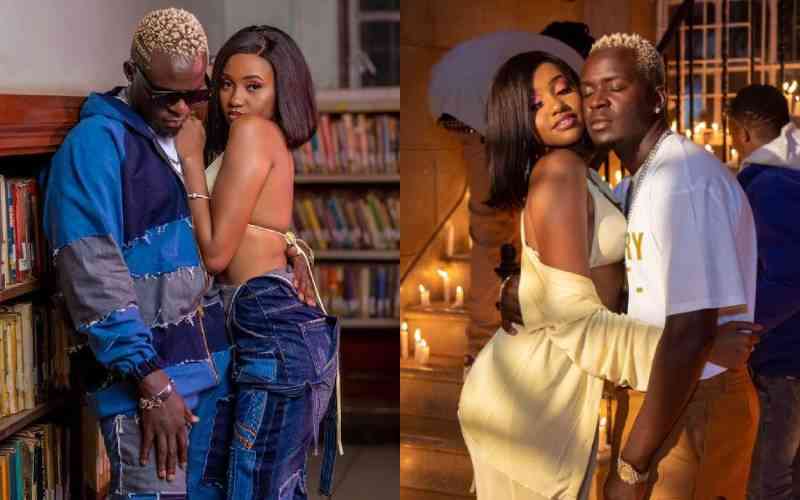 The ongoing online relationship between singer Willy Paul and Miss P has raised speculation among netizens about the authenticity of their feelings for each other.
Some wonder if they are genuinely in love or if they are using their relationship to gain attention and maintain their musical relevance.
A quick look at Willy Paul's Instagram profile reveals numerous posts featuring Miss P dancing to their recent collaboration, 'Popo,' accompanied by captions expressing his adoration for her beauty and professing his love.
"Just look at this incredible woman dancing, with thoughts of me," he recently posted.
A few days ago, the singer surprised many by revealing his plans to marry the former Saldido Music Records signee. This confession caught people off guard.
View this post on Instagram
"I'm going to marry her. Now you all know... I've been keeping it a secret, but not anymore," he disclosed.
Not just that, the musician hopes one day they will have a family of their own together.
"Our children will have the most amazing parents ever. Love conquers once again."
This comes just a few months after the two stars reconciled after a long time of not speaking. This was majorly brought about by Miss P's rape allegations against him.
Admitting fault in a previous interview, Miss P apologized to Willy Paul explaining that at the time of the allegations she was hurt, angry and childish.
Responding to her apology, the award-winning singer explained that he was hoping and waiting for the truth to reveal itself one day and that is why he held back from taking dire actions against the singer.
"There's always light at the end of the tunnel. The truth always comes out no matter how long it takes. It's been two years of misjudgment from the public eye, i don't know whether to forgive or... Well I know you've all been waiting for my reaction after miss p's confession. I've seen your comments, most of you asking me to take legal action and some asking me to forgive and keep away from her.
"A good number of you guys reminded me of what that false story put me through and insisted that I take legal action without having second thoughts. But the question is, what good will having her locked up do to me? Absolutely nothing. I will gain nothing," read part of his post," he wrote.
Referring to his good nature, the celebrated singer stated that he had no option but to pardon Miss P.
"Being a good man that I've always been, the good man that most people fail to see the good in. I have decided to forgive this beautiful soul. I know it cost me a lot but if god can forgive then who I'm I not to? If you truly understand the word of god then you'll understand that there's even more peace in forgiveness. Remember this fam, god used me to unlock this girl's doors and I did just that so why would I mess what God used me to make?
"Bottom line, I still have so much love for her and will always be here to listen to her whenever she needs my advice or any other thing that I can help with. Before you judge her or even disagree with me, just remember that mistakes happen, people make mistakes no one is perfect and like I said earlier, I still so much love for her and my doors will stay open for her," he concluded.
Related Topics