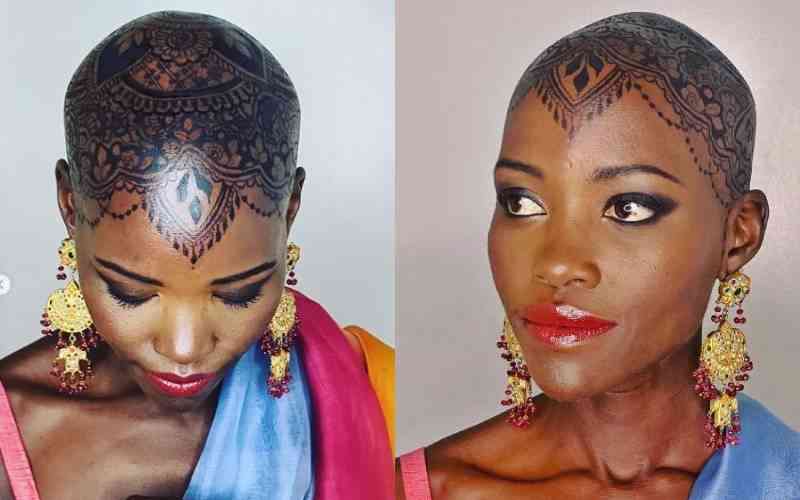 Award-winning actress Lupita Nyong'o shared the story behind her viral bald henna look in an Instagram post that left many of her fans awestruck.
She recounted meeting @hennabysabeen at a wedding in Pakistan, where the artist had impressed her with her "intricate and beautiful" henna designs. Lupita was "astounded" by Sabeen's work, and promised herself that she would work with her one day.
Fast forward 1.5 years later, and Lupita found herself scrambling to put together an outfit for the opening night of her friend Mira Nair's musical.
She had borrowed a sari and jewelry from the bride at the wedding she had attended with Sabeen, but still felt like something was missing. That's when an idea "shot into her mind" in the middle of the night – a henna design covering her bald head.
"I could do something special and different, to celebrate the culture using the canvas readily available to me," Lupita wrote. She was so excited about the idea that she couldn't go back to sleep.
She contacted Sabeen, who had never designed for a head before. Lupita's only request was that she wanted a widow's peak, an homage to the bindi, borla/maang tikka.
View this post on Instagram
The rest was "all Sabeen's innovation." Sabeen suggested using #jagua, a natural dye from the jagua fruit of South America that would give good contrast to Lupita's dark skin.
The two were both excited and terrified at the same time. "What if it went wrong or looked funny?" Lupita thought. "But Sabeen brought it!"
Sabeen was meticulous, determined to leave Lupita a happy client. "We stopped now and again so that I could give her feedback," Lupita said. "And Sabeen was METICULOUS. She did not stop until it was perfect. When we looked at the finished head... we were both GRINNING!"
"It takes about 24 hours for the dye to really show up," Lupita explained. "And when it came in, in full contrast the next day, I was simply MOVED. It was beautiful. It was bold and elegant; it had a point of view. We had not played it safe, and it had paid off. And I had found a new way to express myself without hair!"
Lupita concluded her Instagram post by encouraging her followers to "dare yourself to seek out beauty in new ways." She thanked Sabeen for bestowing on her "the beauty of your hand and history."
In Lupita's words, the henna design on her bald head was "bold and elegant" and had a "point of view." It was a new way for her to express herself without hair and celebrate the culture in a unique way.
Related Topics