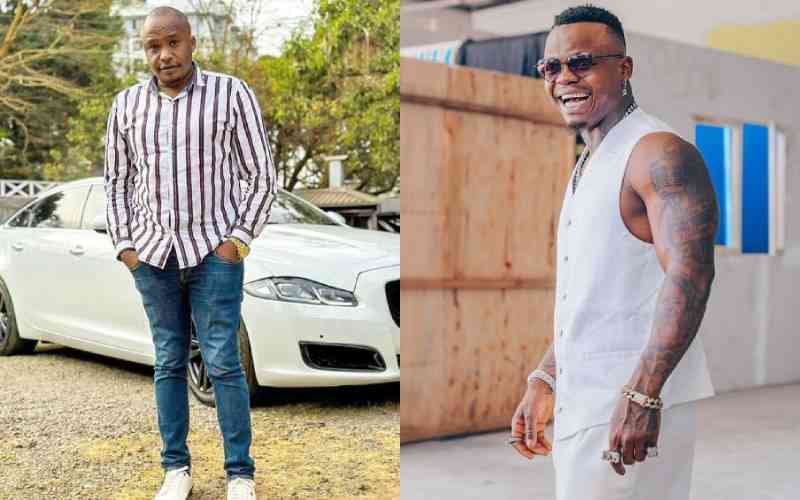 Tanzanian musician Harmonize has hit back at former Starehe MP Charles Njagua, popularly known as Jaguar, after he claimed to have more wealth than both Harmonize and Akothee.
The comment was made after Forbes East Africa's wealthiest musicians list was published and Jaguar expressed his disbelief at being placed below Akothee and Harmonize.
However, Harmonize has responded to Jaguar's comment in an Instagram post. The musician seemed to brush off the comments, saying that he would have retired from music if he were Jaguar's age.
Harmonize, whose real name is Rajab Abdul Kahali, also stated that he had already denied Jaguar's title from former President Magufuli.
"That is why you said you got money over me lol, I have already denied your title from our former president Magufuli. If I was at your age, I would have retired from music. Love you bro, keep banking on it 100%," Harmonize wrote.
This comes after Akothee also responded to Jaguar's comments on social media. The musician cautioned Jaguar against comparing himself to a woman and pointed out that most celebrities and musicians often run into politics to make money and remain relevant in power.
Akothee also questioned Jaguar's qualifications to earn a seat in parliament, stating that many politicians would go home early if an exam were to be done on the positions they hold.
She further advised politicians not to brag about their riches, which are often funded by taxpayers' money, while many people struggle to afford basic necessities such as education.
"A real philanthropist can be felt/seen both off and on cameras. Again, anyone with less than 3.5m followers should not mention my name. You are clout-chasing, and I am not in your league," Akothee wrote on Instagram.
Akothee went on to question why some politicians had not been seen doing more charitable work and accused some of only participating in charity for the sake of public relations.
She also made it clear that she did not envy or aspire to hold any government position, as she considered herself to be her own government.
Related Topics