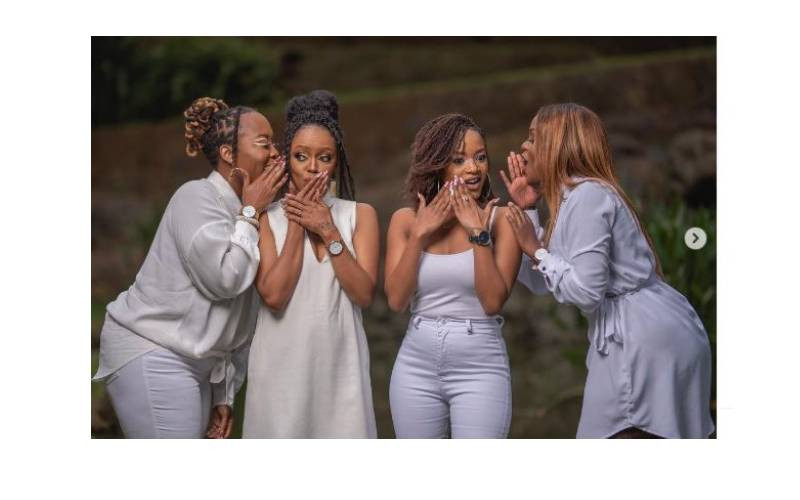 Kenyan YouTubers Jules, Lornzie, Ivy, and Shikie, the members behind the popular channel 'Over 25,' recently announced their split after seven years of creating content together.
While the group has a huge following with over 157,000 subscribers, they explained in their final video that it was time to move on to new endeavors.
However, rumors began to circulate on Twitter that the split was due to conflicts with media personality Makena Njeri.
Some Twitter users alleged that Makena Njeri caused a rift between the 'Over 25' members and that she was responsible for the group's decision to disband.
To address the rumors, the members of 'Over 25' took to their Instagram page to release a statement.
They thanked their subscribers and followers for the support they had received since their final video, adding that they appreciated all the positive comments and messages they had received.
"Over 25 would like to thank our subscribers and followers for the immense support received after our final curtain call video. For every positive comment, message and post, we truly thank you and appreciate each one of you for being on this journey with us," read part of the statement.
However, they also noted the negative comments and rumors circulating online and emphasized that they do not condone cyberbullying, lies, or hateful commentary.
"We are also cognizant of the unpleasant and fabricated narratives circulating the internet and will, as always, have focus on what is positive, uplifting and truthful. We do not and never have condoned the perpetuation of cyber bullying, lie or hateful commentary. As such, we maintain the reason stated for the discontinuation of Over 25."
View this post on Instagram
The members of 'Over 25' maintained that the reason for their split was due to their individual life changes, including marriages, babies, career changes, break-ups, make-ups, graduations, birthdays, and even final goodbyes.
In their statement, they wrote: "We poured our hearts and souls into Over 25 where we connected, grew, and celebrated with our audience - boy did we love it! It has not been an easy decision to make, but as Over 25, we now feel that it is time to take a step back and figure out WHO we are now seven years since we started this journey. While we cannot say for sure if this is the end, we may possibly come back, just not right now."
While the members of 'Over 25' did not directly address the rumors regarding Makena Njeri, their statement was clear that the reason for their split was not due to any outside influence.
Related Topics