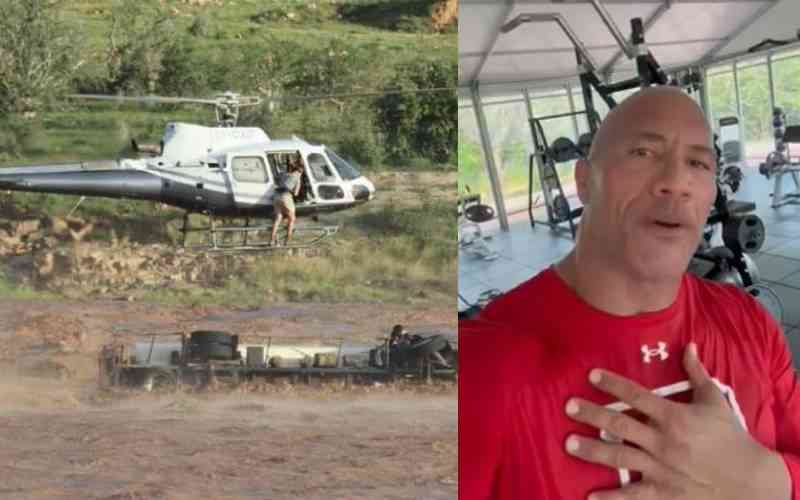 Actor and former professional wrestler Dwayne Johnson, popularly known as "The Rock," has taken to social media to express his admiration and appreciation for the heroic actions of Kenyan pilots who rescued a truck driver from floodwaters.
In a selfie video recorded at the gym, The Rock praised the pilots for their bravery and courage in rescuing the trapped driver from a precarious and dangerous situation.
He expressed how impressed he was with their actions and how they had inspired him.
"I was so impressed and so moved by your act of valour and heroism as you saved that man whose truck was tripped over," he said. "I have had the great fortune and privilege to play a helicopter pilot in situations like that, but you guys are the real deal."
He went on to say that in his own training and research, he understands how challenging it must have been for the pilots to execute the rescue successfully.
He commended them for their hard work and dedication and expressed his gratitude, saying, "I want to send you guys so much love, and I appreciate you."
The Rock also emphasized the importance of recognizing people's contributions while they are still alive, saying, "It's good to give the pilots their flowers while they are still here with us."
The helicopter pilots from @SheldrickTrust have been recognised!Hollywood actor Dwayne 'The Rock' Johnson (@TheRock) gives a shout out to the Kenyan hero brothers who rescued a truck driver by pulling him out of raging flood waters.#seanknows pic.twitter.com/HoA6cQoJCq

— Sean Cardovillis (@seancardo) May 7, 2023
The truck driver had been trapped in the flooded vehicle since 10 am on the day of the incident, and the water had pushed the tanker to its side, smashing the windscreen and engulfing the cabin.
The driver clung to the top of the tanker as the crisis intensified, making it a matter of time before the river engulfed the entire vehicle.
Thankfully, the pilots, who work for the Sheldrick Wildlife Trust, were able to rescue the driver. The trust reported that the Galana operations manager raised the alarm at 4:30 pm on Wednesday after the tanker was overwhelmed by the swollen river.
Taru Carr-Hartley, one of the pilots, was captured in a viral video holding the hand of the truck driver as he was airlifted to safety.
Through their website, the Sheldrick Wildlife Trust said that onlookers were unable to intervene as the current made any sort of crossing impossible.
Related Topics