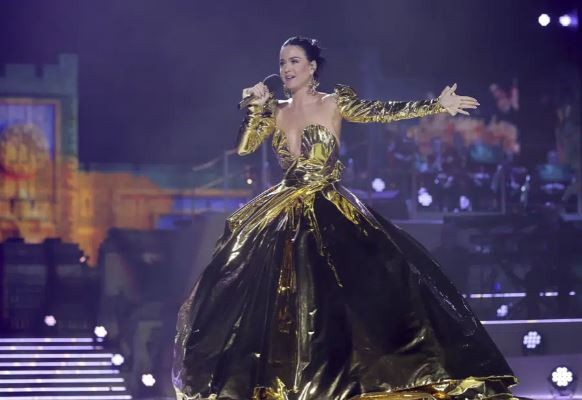 A day after a gilded coronation ceremony watched by millions, King Charles III and Queen Camilla let others take the center stage Sunday as they took in a star-studded concert featuring Katy Perry, Lionel Richie and others at Windsor Castle.
The newly crowned monarch and his wife appeared to enjoy the show as Richie performed "All Night Long," at one point getting up on their feet and swaying to the music. Other members of the royal family, including 8-year-old Princess Charlotte and Prince George, 9, waved Union flags along with a crowd of some 20,000 gathered on the castle's east terrace.
Charlotte and her mother, Kate, the Princess of Wales, sang along as Perry, dressed in a gold foil ball gown, performed her pop hit "Roar."
"Top Gun" star Tom Cruise appeared in a recorded video message, saying: "Pilot to pilot. Your Majesty, you can be my wingman any time." The mixed program also saw performances by the Royal Ballet, Nicole Scherzinger from the Pussycat Dolls, opera singer Andrea Bocelli and British band Take That.
Even Miss Piggy and Kermit the Frog made an appearance, joking with host Hugh Bonneville.
The entertainment was interspersed with more serious moments. A message from Charles on the importance of environmental conservation was played, and the show was accompanied by a light and drone display with a nature theme.
Prince William, heir to the throne, took to the stage to pay tribute to his father's dedication to service. "Pa, we are all so proud of you," he said.
Concert goers sang "God Save the King" as landmarks around the U.K. were lit up in colorful lights.
Earlier Sunday, thousands of picnics and street parties were held across the U.K. in Charles' honor. The community get-togethers, part of a British tradition known as the Big Lunch, provided a down-to-earth counterpart to the gilded spectacle of the king's crowning Saturday.
The events were intended to bring neighbors together to celebrate the crowning even as support for the monarchy wanes. Critics complained about the coronation's cost at a time of exorbitant living expenses amid double-digit inflation.
Related Topics