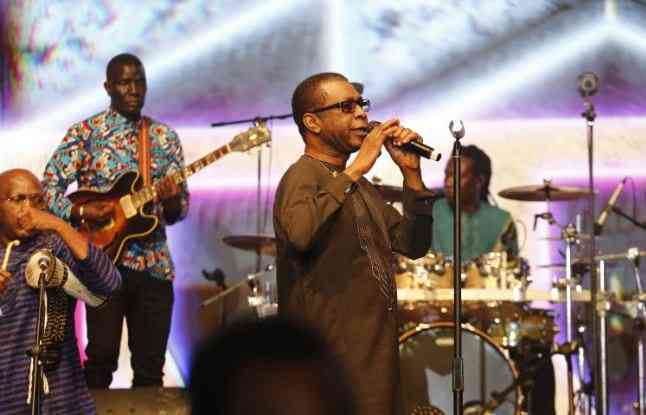 Legendary Senegalese singer Youssou N'Dour entertained fans at the Mo Festival at the KICC, Nairobi, last weekend. The festival was held on the sidelines of the Ibrahim Governance Weekend (IGW).
This year's concert was dubbed a celebration of African music and culture .
The Mo Ibrahim Foundation (MIF) brought together a line-up of greats. Headlined by East African superstar Nyashinski, the concert also included some of Kenya's top artistes Otile Brown, Mejja, Nviiri and Femi One – recently crowned 2022 Best Female Rapper of the Year at the Afrima Awards.
Added to the list were performances from two of Kenya's finest DJ's - DJ Joe Mfalme and DJ Pierra Makena. Emcee of the evening was Dj Exclusive.
In 2004, Rolling Stone Magazine described N'Dour as, "perhaps the most famous singer alive" in Senegal and much of Africa. From April 2012 to September 2013, he was Senegal's Minister of Tourism.
He wears many hats and, in addition to being a singer and a politician, is also a songwriter, musician, composer, actor and businessman.
When Forbes Magazine released the list of the top 10 richest African musicians in 2022 and their net worth, N'Dour and Akon topped the list with a net worth of Sh17.4 billion and Sh9.6 billion, respectively. In 1994, N'Dour released his biggest international hit single, the trilingual 7 Seconds, a duet sung with Neneh Cherry.
He wrote and performed the official anthem of the 1998 FIFA World Cup with Axelle Red La Cour des Grands (Do You Mind If I Play).
The Senegalese singer is also known for his extraordinary vocal range and for introducing international audiences to mbalax—a Senegalese popular music style that blends Wolof traditional instrumental and vocal forms primarily with Cuban and other Latin American popular genres At a press conference a day before the event, N'Dour also shared his political experience as Senegalese a presidential candidate and life in music
"I'm glad to be in an industry where there is no ceiling on age, but rather driven by passion and love for the game," he said when asked when he wants to retire from the music scene
N'Dour applauded the Afrobeat generation, but advised the young to make lifetime music, and have conscience messages in their songs; "Music is a weapon and a tool for message, let's be conscious of the kind of music we make for future generations."
Nviri the Storyteller was a happy man as he sat next to the legend. "Today I'm glad that my music cuts across the class, generations, fashions and ages," he said.
Related Topics