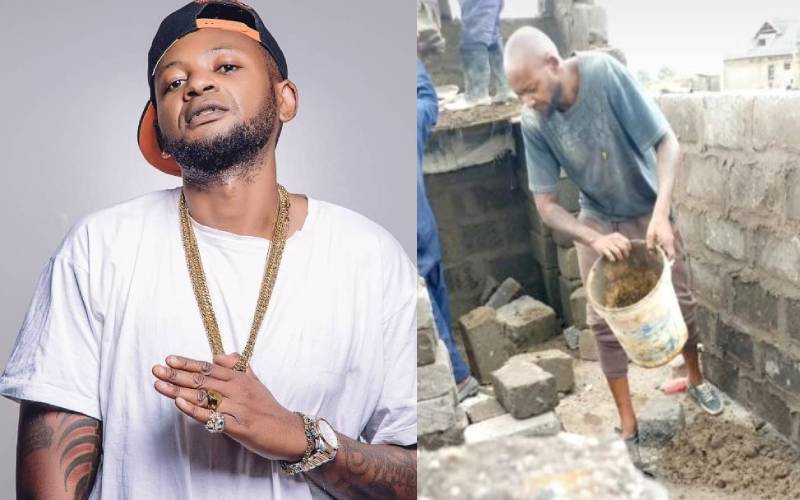 A recent video of a man said to be Kenyan singer Colonel Mustafa, also known as Daudi Mustafa, has been circulating on social media and has stirred up a range of reactions among Kenyans.
The video shows him carrying stones at a construction site, leading many to speculate about the state of his music career and personal life.
While some social media users were quick to criticize and mock the singer, many others have spoken out against this behavior and urged for more positivity and support.
What happened to the Kenyan singer Colonel Mustapha? pic.twitter.com/wCnfcSU3aA

— Allan Obare (@AllanObare4) May 4, 2023
One Twitter user wrote, "Colonel Mustapha is just hustling like every man should. His fake life in music videos cannot be used to determine what his lifestyle ought to be like."
Another user, Silas Mutiti, emphasized the importance of artists investing in themselves and planning for the future. "This life no matter how little or sweet don't enjoy to a point of forgetting who you are, artists invest while you can," he tweeted.
Despite some negative reactions, many social media users have chosen to support Colonel Mustapha. Malik Surum wrote, "You-all should stop criticizing this man, He's Willing to make a change despite going broke, He has accepted the fact and he's willing to change."
Nicodemus Musa echoed this sentiment, stating that the video could have been recorded for any number of reasons and that it was important to support the singer as he works to get back on his feet.
He wrote, "He's just being a man. U must provide. Someone recorded maybe to humiliate him or maybe it's clout. Nobody knows tomorrow. Life is up and down and as a man you must rise up to the occasion and do what's needed despite what people think."
Steve Owano pointed out that many people face financial struggles in life, and that there was no shame in doing whatever it takes to make ends meet. "Could be clout. Anyway, I can do anything legally to put food on my table despite my triumphs in my early life," he wrote.
Meanwhile, Kamau argued that Colonel Mustafa's situation was not unique and that it was important to support all individuals as they work towards their goals.
"I see nothing wrong with the video, falling back and getting up is part of the journey. Let the man hustle!!" Kamau said.
In response to the viral video, Nairobi News reached out to the veteran singer, who admitted that he was not doing well.
In a previous interview with The Trend in July 2022, Colonel Mustafa revealed that he had been going through a tough time, which forced him to take a break from social media.
The singer had not released any new music in almost five years but assured his fans that he was currently working on an album.
"It's been five years since I released music. Now I am back," he said. "I had depression at some point, like two or three years after I left 'Nairobi Diaries' and things went bad."
Related Topics