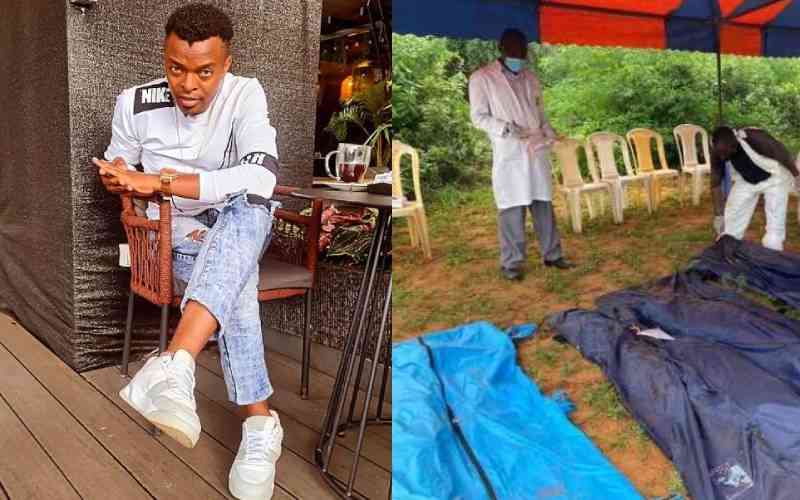 Kenyan gospel artist Ringtone has received backlash from the public after his controversial comments on the Shakahola deaths. The singer praised Pastor Mackenzie for convincing people to fast and prove their faith, adding that he was glad the deceased had given their lives to Christ, as they would go to heaven.
So far, over 90 bodies have been exhumed from mass graves in Shakahola, with the death toll likely to surpass 100 people. During an interview with Nicholas Kioko, Ringtone said that Pastor Mackenzie was not at fault because he only told people to fast and they did.
He also criticized those who are complaining, saying that most of them will not see heaven because they love wealth and would not give it up for anything.
Ringtone went ahead to say that people should not fight Pastor Mackenzie because he helped take people's faith to another level. Despite pushing these people to fast, Ringtone believes that Mackenzie won't see heaven as he took their property for his own benefit. He expressed jealousy over the people who died and said that if given a chance to fast, he would have fasted, but not to the extent of death.
According to Ringtone, the Shakahola victims died because of their faith. He believes that religion is all about brainwashing and that it is time for people who love God to be happy because people have shown their faith and gone to heaven.
Ringtone concluded by saying that maybe Pastor Mackenzie was used by God to take people to heaven and that these are the end times. He urged Christians to be angry only when a person dies without giving their life to Christ.
Ringtone's comments about the Shakahola tragedy have sparked outrage and condemnation from many Kenyans. Media personality Willis Raburu expressed disappointment with Ringtone's comments, saying that trivializing the deaths in Shakahola is inappropriate: "Over 80 people died and that's just what we have been told. Surely let's not trivialize this matter by encouraging infinitesimal thinking. We appreciate freedom of speech and opinion but let's not propagate nugatory observations at this painful time."
Radio host Ogi Obinna questioned the idea that suffering is necessary to go to heaven and criticized Ringtone's comments: "So in order to go to heaven you have to suffer on earth? hogwash. Why would God want his children to suffer?"
Ms Musau criticized Ringtone for using the tragedy to gain attention: "Okay, even if it's for clout chasing and you want people to start talking about you, it is just wrong to use the Shakahola massacre to remain relevant on social media … there are families having anxieties over their lost people who are yet to be found."
Adam Maina condemned Ringtone's comments and suggested that he should not use a tragedy to seek attention: "You don't have to use everything including deaths as an opportunity to chase clout."
Sahriz Shazzy criticized Ringtone and Pastor Mackenzie's teachings, arguing that faith should not lead to foolishness and suggesting that the church is a cult: "There's a difference between FAITH and FOOLISHNESS. There's no where in the bible or Jesus' teachings where we're told we fast till death. In as much as faith is involved, cult is also involved. NOT NORMAL."
Dennis questioned the biblical basis for Ringtone's comments, saying that fasting until death is not mentioned in the Bible: "There's nowhere in the Bible written people should fast until death so that they see the kingdom of heaven."
However, Ringtone is not the only one supporting Pastor Mackenzie's teachings. His younger brother Robert Mbatha denied claims that the controversial preacher is responsible for the death of hundreds of people who subscribed to his teachings.
In an interview with Citizen TV, Mbatha stated that Mackenzie studied up to form four but did not undergo any form of Theological training. He then worked as a taxi driver in Malindi for several years before he got his 'divine' calling. Mbatha said shunning modern health care and education was not mandatory in his brother's church as his own children went to school and hospitals whenever they were unwell.
"Mackenzie has never castigated me for educating my children or seeking treatment when they are sick. It was a personal choice. If you fail to take your children to school, that is a personal choice," he said.
Mbatha added that his brother is innocent and incapable of murder. He recalled how they grew up and described Mackenzie as a model child who was kind and helpful to everyone.
Related Topics