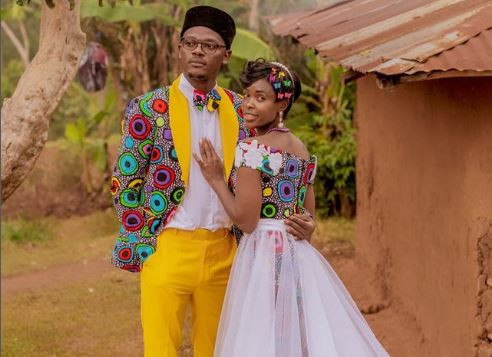 Jacky Vike, popularly known as Awinja, has confirmed that her wedding over the weekend was not real. Instead, it was a YouTube show that she has been working on, which will be posted on her social media account.
The show, titled "Awinja's Perfect Wedding," stars Awinja and comedian/digital content creator Cyprian Osoro (aka Osorosoro). It follows a couple's journey to their wedding as they plan for their big day. Along the way, the couple faces various challenges that put their relationship to the test, ultimately leading to a dramatic conclusion.
Although Awinja had previously announced her wedding on social media, she did not share any photos or further details about the event. However, videos and photos of the traditional wedding began circulating on social media over the weekend, showing Awinja wearing a mixture of traditional and Western wedding attire with butterfly decorations in her hair. Osoro wore a multicolored coat, white shirt, and yellow pants.
View this post on Instagram
Despite the pictures and videos, many fans suspected that the wedding was not real. One major factor was the absence of Awinja's celebrity friends at the event, which made it hard for fans to believe that she had actually gotten married. Additionally, the fact that videos and photos of the ceremony were only shared by third parties raised more questions about the legitimacy of the wedding.
Furthermore, Awinja and Osoro have appeared as a couple in many other sketches, blurring the lines between reality and fiction. This made it difficult for fans to separate the show from real life, especially since Awinja had previously stated that she would not expose her loved ones on social media.
In the wake of the speculation, Awinja took to her social media account to confirm that the wedding was indeed a fake event for her YouTube show. She posted a snippet of the ceremony featuring older bridesmaids and captioned it "Can your Bridesmaids Even??!! Tuwapatie rates zao? Its been an amazing journey since episode one of #AwinjasPerfectWedding to the last episode enjoy!"
View this post on Instagram
While the traditional wedding may have been fake, Awinja's fans are excited about the upcoming YouTube show. Awinja is a well-known actress in Kenya, having gained fame through her role as "Awinja" in the popular Kenyan television series, "Papa Shirandula." Fans have come to love her humor and acting skills, and are eagerly awaiting the release of "Awinja's Perfect Wedding" to see her in action once again.
Related Topics