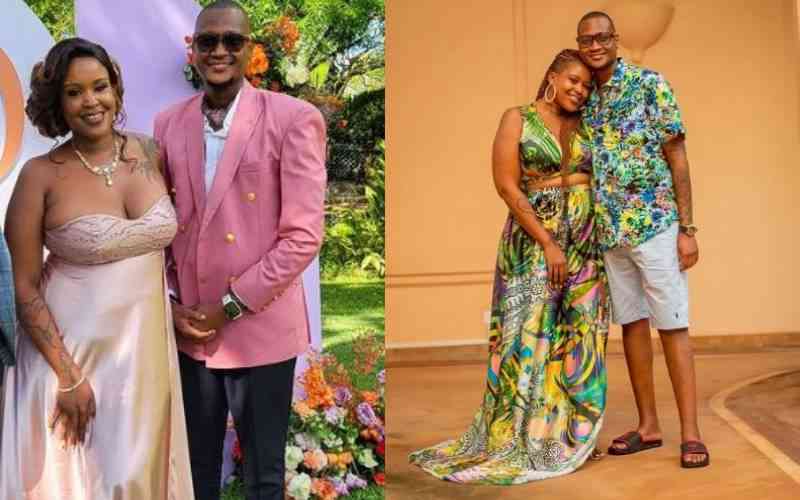 Former radio presenter Kamene Goro recently tied the knot with DJ Bonez in an intimate ceremony, surrounded by their closest friends and family members. The couple had been in a relationship for two years prior to their engagement in Diani in September 2022, which was met with great excitement and well wishes from fans and followers.
After saying their "I dos," Kamene and DJ Bonez set off for their honeymoon. Kamene took to social media to share an update about their first day, expressing her joy and describing it as "AMAAAZZZIIINNNGGG!!!!!!!".
However, not everyone had positive things to say. One follower, Kamau Njoki, left a negative comment suggesting that Kamene was the one footing the bills in the relationship. Kamene swiftly responded to the comment, urging the follower to be more mature and better than that.
"Look at your age, what you're writing and to whom. Be better," wrote Kamene. However, she quickly deleted the comment, but not before the exchange had been noticed by her fans and followers.
View this post on Instagram
DJ Bonez, on the other hand, had earlier dealt with criticism in his own way. He shared a video of their wedding ceremony, with a caption that read, "Kusema Nayo Watasema Sana Mwisho Watajizengua tu wenyewe," which roughly translates to "People will always talk, but in the end, they will back off."
The newlyweds have been the subject of rumors and speculation, with some suggesting that DJ Bonez had been married before and left his previous wife for Kamene. However, in a recent interview with a local radio station, DJ Bonez cleared the air, stating that he had never been married before but did have children outside of his relationship with Kamene.
Kamene had previously stated her preferences when it came to men, particularly their taste in music. She stated that she was not attracted to men who listened to reggae music and wouldn't date someone who did. Kamene said music was an integral part of her life, and she wanted to be with someone who shared her passion for it.
Their wedding was an exclusive affair, with only their closest friends and family members in attendance. Langata MP Jalang'o was the first to share the news of their nuptials, congratulating the couple and wishing them a lifetime of love and happiness together.
Related Topics