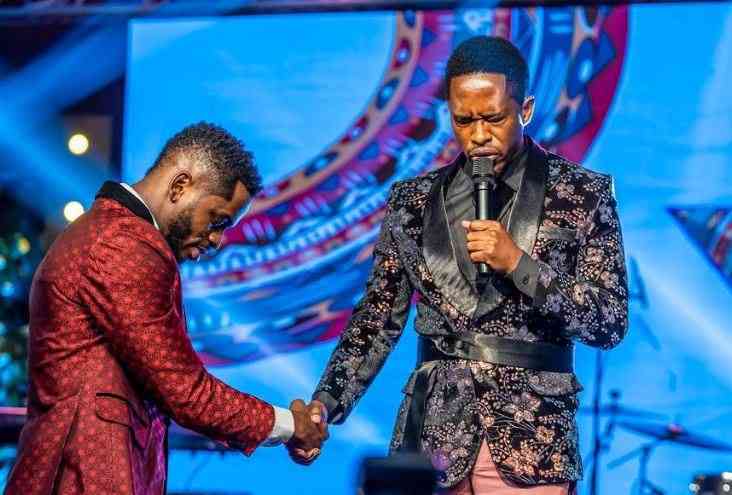 Tanzanian music sensation Diamond Platnumz has been making headlines recently for his attendance at Christina Shusho's event, Mtoko Wa Pasaka. However, it was not his attendance alone that has caused controversy. The event, which was held during the holy month of Ramadan, saw Diamond being prayed for by a Tanzanian prophet named Clear Malisa, sparking mixed reactions from fans.
Prophet Malisa prayed for prosperity and blessings over the singer's life, a gesture that some of Diamond's Muslim fans did not take kindly to. To make matters worse, Diamond also quoted a Bible verse during his speech at the event. The verse, Matthew 28:5-6, reads: "The angel said to the women, 'Do not be afraid, for I know that you are looking for Jesus, who was crucified. He is not here; he has risen, just as he said. Come and see the place where he lay.'"
Muslim fans took to social media to criticize Diamond, questioning why he would attend a Christian event during the month of Ramadan, which is considered a sacred time for Muslims worldwide. They expressed disappointment that a Muslim artist like him would participate in an event that does not align with his faith.
Some fans also pointed out that Diamond did not attend a Quran recitation competition recently held in the country. They argued that since he was a Muslim, he should have attended an event that aligns with his faith, rather than a Christian event.
However, others defended the singer, saying that attending a Christian event does not necessarily mean that he is abandoning his Muslim faith. They cited previous leaders who have also prayed in mosques as an example of how people of different faiths can coexist.
Despite the controversy, the event was a huge success, with many gospel artists taking to the stage. Among them were Rose Muhando, Christina Shusho, and Goodluck Godzbert. The event also saw the attendance of Kenyan singers Ringtone, Mercy Masika, and DK Kwenye Beat.
Related Topics