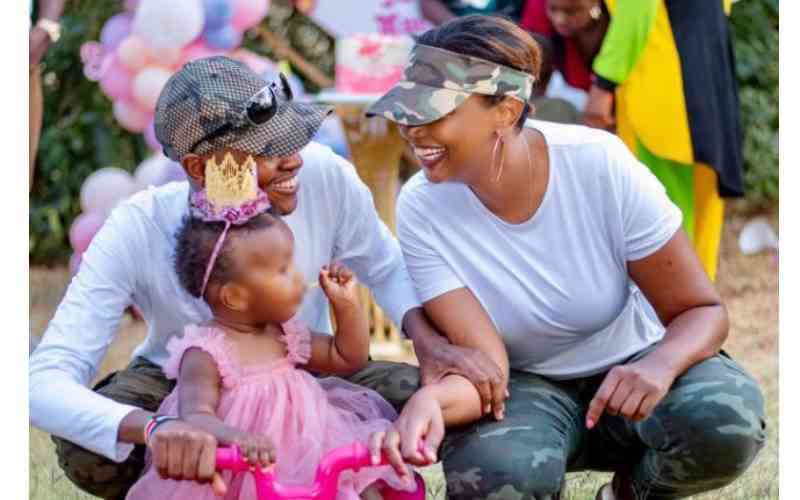 Nominated Senator Karen Nyamu recently caused a stir on social media after posting birthday photos of her daughter with popular Mugithi singer Samidoh. Nyamu celebrated her second child's birthday with Samidoh on February 26, 2023, however, it was the birthday party pictures that caused a frenzy on the internet.
What drew attention was the timing of the photos. Karen did not post photos of the party until hours after Samidoh's wife Edday Nderitu had shared family photos and videos of them partying at their daughter's birthday.
Edday shared the birthday photos and captioned them, "Amazing party it was, thanks family and friends for joining us to celebrate my daughter's first year's birthday, the party was on fire the energy was on another level. To my daughter... A parent's job is never over, it just evolves with time. No matter how many birthdays you celebrate, I'll always be your mama. More blessings!"
Nyamu's decision to share her daughter's birthday photos with Samidoh shortly after Edday's drew criticism from some Kenyans, who accused her of trying to compete with Edday.
One person commented, "Was this really necessary, especially today? Allow Edday to enjoy her daughter's day in peace." Another wrote, "This is now beyond obsession and competition. It has become jealousy. How can something as small as kids' birthdays be compared? You even posted your past photos. Love has no teacher."
However, some netizens came to Nyamu's defense, urging others to celebrate both sides without bashing anyone. "People should stop provoking Karen Nyamu, then when she posts, y'all start blaming her again. Y'all need to choose one thing, celebrate the other side without bashing this one," one person wrote.
Nyamu suggested that she had posted the pictures due to public demand. She praised her baby daddy for being a good dad, adding that he deserved many children. She captioned the photos, "Ok due to public demand hehehe. A good dad deserves many children. Happy birthday Neriah Muchoki."
Despite the mixed reactions, Nyamu has always been known to be outspoken and unapologetic about her actions. In the past, she has been criticized for her bold personality and public displays of affection for Samidoh, but she has always stood her ground and defended her actions.
Karen Nyamu and Samidoh have been in the news before, following their controversial relationship, which saw the singer publicly apologize to his wife, Edday Nderitu. Nonetheless, the two have been able to move past their troubles and co-parent their children.
Related Topics