Nominated Senator Karen Nyamu and Mugithi singer Samidoh were recently spotted hanging out at an event, sparking speculation about their relationship. The two were invited to Trade CS Moses Kuria's homecoming event on Sunday, March 26th, where Samidoh was scheduled to perform.
The event was documented on social media by Nyamu's friend, Bakhita, who shared videos of the occasion on her Instagram stories. The videos show Nyamu and Bakhita dancing to Samidoh's songs, with the singer visible in the background.
In one of the videos, Nyamu had Samidoh's name written on her cheek, and Samidoh was standing next to her, enjoying himself as well. Bakhita tagged Nyamu on the video and captioned it "Mapenzi wewe."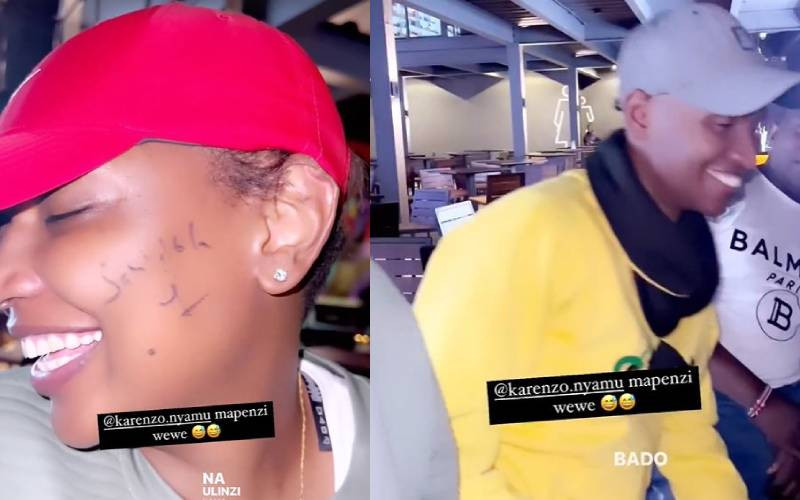 On her social media pages, Karen thanked CS Moses Kuria for the invitation. "Thank you Moses Kuria CS for Trade for hosting us Mt Kenya leadership. Our Consultations and our resolutions today define our future as a community," she wrote.
Meanwhile, Samidoh also shared photos from the event while performing, captioning the post with a verse from Psalms 103:2-3. "Let all that I am praise the Lord; may I never forget the good things he does for me. He forgives all my sins and heals all my diseases. This morning, I joined my longtime friend, CS Moses Kuria for his Thanksgiving service at AIPCA Thika Cathedral."
The video has generated buzz, given the recent controversy surrounding Samidoh's marital status. The singer's wife, Edday, had previously expressed her displeasure with him after he was rumored to be in a relationship with Nyamu. Edday issued an ultimatum to Samidoh, hinting that she had ended their marriage after 15 years of struggles, and accused Nyamu of being a homewrecker.
However, days ago, Edday took to TikTok to share a video challenge of Harmonize's song 'single again'. She used hashtags 'Single again.'
Despite the drama, Nyamu and Samidoh have been spotted together multiple times, and their relationship remains a topic of discussion among fans and the media. Just a few weeks before the Trade CS Moses Kuria's homecoming event, Nyamu's friend Bakhita shared a photo of herself posing with Samidoh at his daughter's birthday party. The two were all smiles, and Bakhita even insinuated that Samidoh was Nyamu's husband, saying, "A husband to my sister is a brother to me."
The controversy surrounding Nyamu and Samidoh's relationship began when Nyamu caused a scene at the singer's performance in Dubai. After public backlash over the incident, Nyamu announced that she had broken up with Samidoh, but their recent appearances together suggest otherwise.
As of now, it's unclear whether Nyamu and Samidoh are officially back together, but their strong bond and public appearances together have sparked speculation among fans.
Related Topics