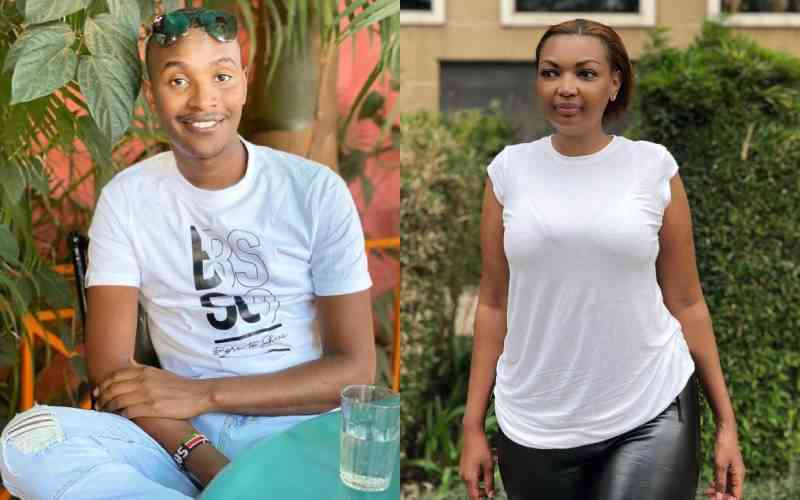 The world of social media can be a very interesting place. From funny memes to heated political debates, there's always something going on. But sometimes, people can't help but butt into other people's business, especially when it comes to their personal lives. That's exactly what happened to nominated Senator Karen Nyamu recently when a fan decided to give their opinion on her relationship with singer Samuel Muchoki, aka Samidoh.
Karen, known for her outspoken nature, had shared a photo of herself with the Secretary-General in the Ministry of Labor and Social Protection, Geoffrey Kaituko, after a meeting with him.
In the caption, she talked about the deliberations that looked to enhance key sectors. However, as expected, not everyone was interested in the meeting. One Instagram user, Muhingo Bob, decided to take a swipe at Karen's personal life instead, writing that she was too old for Samidoh and should leave him alone.
"You Karen, seem too old for samidoh though, leave the young boy alone," wrote Bob.
The comment seemed to have struck a nerve with Karen, who is known for her sarcasm and biting responses. In her response, she said that Samidoh had made his choice and should be allowed to enjoy it.
"He chose old, please let him enjoy," she replied. Karen's response was as expected, witty and straightforward.
But this isn't the first time Karen has had to deal with criticism for her relationship with Samidoh. A month ago, Samidoh's wife, Edday Nderitu, also voiced her disapproval, calling Karen an immoral person who doesn't respect her family.
In a lengthy Facebook post, Edday said that she had helped Samidoh develop his talent and supported him in everything, but she was not ready to accept Karen as a co-wife. She went on to say that she wouldn't raise her children in a polygamous family, especially with a woman who was more than 10 years older than her.
Despite the drama, Karen seems unfazed and continues to live her life on her own terms. She has often been very vocal about her opinions and beliefs, whether it's about politics or her personal life.
Related Topics