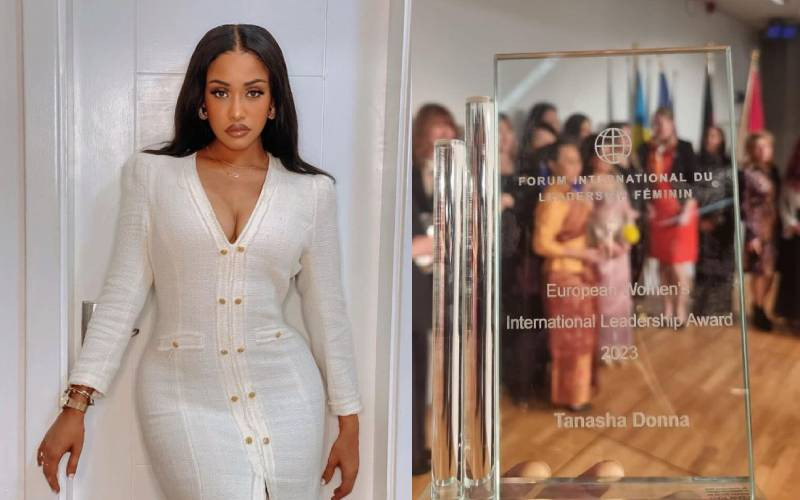 Singer Tanasha Donna, was among the eight extraordinary women who were honored with the "European Women's International Leadership Award" in Belgium on March 6, 2023, as part of International Women's Rights Day. This award recognizes women who have pursued their dreams, broken traditional obligations, challenged male-dominated areas, and set an example for everyone.
Tanasha Donna expressed her gratitude for the award on her Instagram account, stating that she was humbled and honored to be recognized by the European Parliament and the German state of Hesse. She also congratulated all the other amazing women who won and emphasized that this award is not just her win but for all female leaders who positively impact today's society.
"This is big for me.. & This is not just my win, but this is for ALL the female leaders who have a positive influence & impact on today's society," wrote Tanasha.
View this post on Instagram
The award ceremony was held by the Brussels EU Representation of the German State of Hesse, and the other awardees were Nadia Atia (Morocco), Bounthone Chanthalavong-Wiese (Laos, Germany), Nuray Erden (Turkey), Runa Khan (Bangladesh), Martine Moïse (Haiti), Marie-Consolée Mukangendo (Rwanda, Spain), and Inna Pletukhina (Russia, USA).
The team behind the award selected Tanasha for her fluency in five languages and her work as a model, businesswoman, and artist. She has nurtured her creative skills through her African roots and is interested in motivating, touching, and inspiring others in a positive way through her music, which is grounded in afro-soul, afro-fusion, and Amapiano.
She was also featured in the Nollywood musical blockbuster movie "Symphony" in 2021, which tells the story of a talented African youth struggling to overcome societal failures and achieve success.
With 3.9 million followers on Instagram, Tanasha Donna is the most followed Kenyan musician and has been streamed more than 65 million times across all platforms.
In her Instagram post, she also acknowledged and appreciated her friend Carl Cash Knight for accepting the award on her behalf. Finally, she wished all the hardworking and inspiring women a happy International Women's Day, encouraging them to move with love, calmness, humility, self-awareness, respect, courage, class, and integrity to inspire others.
"To all the hard & smart working women, to all the mothers, daughters, sisters & nurturers, who have or have had a positive influence in today's world. This is for us. ~ Happy International Women's Day," wrote Tanasha.
Related Topics