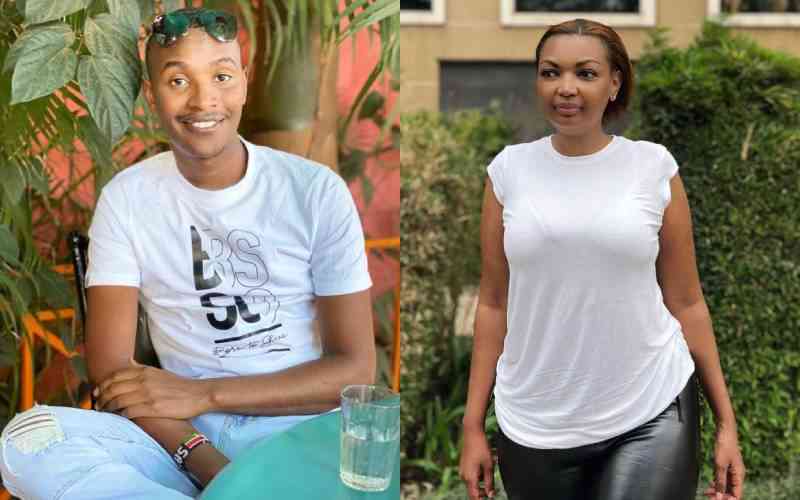 Nominated Senator Karen Nyamu told her fans that she did not waste time dating Mugithi singer Samidoh.
Nyamu was responding to a follower who commented on her Facebook post regarding veteran broadcaster Catherine Kasavuli's death.
"Death is a challenge. It tells us not to waste time. Rest in peace Tv siren Catherine Kasavuli," posted Nyamu.
A Facebook user identified as Christopher Daniels commented on the post and insulted Nyamu, telling her she wasted her time dating the singer.
"Ironically, you have been wasting your time with the Thamidoh...But I guess you regained your senses," wrote Daniels.
However, in a rejoinder, Nyamu quickly responded to Daniels, letting him know what she gained from her relationship with Samidoh.
"2 beautiful babies in 3 years my friend I wasted no minute," responded Nyamu, a comment that elicited many reactions from her fans.
Nyamu and Samidoh have been a hot topic since going public with their relationship years ago. Recently, the couple made headlines after Nyamu announced their break up.
Through her Instagram, Nyamu told her fans she made a "conscious decision" to end her involvement with the father of her children following an altercation in Dubai.
"Great and powerful women will attest that many times our weakest link is the men we get incloved with. I am stopping this pattern, "wrote Nyamu.
Nyamu's remarks came a day after a video where she was seen causing drama at Samidoh's concert in Dubai on December 16, 2022, went viral on social media.
In the video, Nyamu walked up to a table where Samidoh was having drinks with his wife, Edday Nderitu, and attempted to sit on the singer's lap.
At this point, Edday confronted Nyamu as she tried to get hold of her husband. Security personnel quickly intervened before a visibly tipsy Nyamu was escorted out.
In a separate clip, Nyamu was seen dancing on stage as Samidoh and Akorino singer Karangu Muraya entertained revelers. Still, she was swiftly asked to get off stage after a mini altercation.
Speaking on the incident, Nyamu said she had no regrets about how the events played out but promised never to be involved in such a situation.
Related Topics