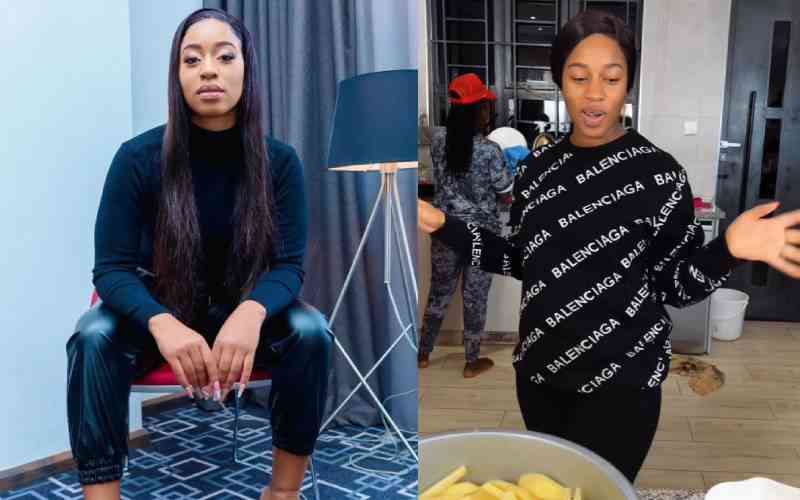 Content creator Diana Marua came under fire after she appeared in one of her videos donning a Balenciaga sweater. The backlash is due to the ongoing worldwide campaigns geared toward canceling the high-end brand.
In the video, an unbothered Diana is seen with her nanny in the kitchen preparing a family meal for the Jamhuri Day celebration.
"This is what @irenenekesa31 has decided to prepare for dinner this Jamhuri Day. Crispy Egg French Fries accompanied with chicken wings," she wrote.
Not long after posting the video, netizens flooded her comments section demanding to know why she had the sweater on, yet there is an ongoing campaign against the brand.
"Balenciaga, a brand that does adverts with kids holding bondage teddy bear, the same brand that also did an advert with papers on top of their tables of a law that glorifies child p**nography, cancel Balenciaga at all cost, children exploitation is not okay," commented one user by the name Aureennashipai.
"I love everything but hio top ya Balenciaga is a turn off its like u don't know Balenciaga supports child abuse," another user named Loriananetia claimed.
According to Mercytuna however, the influencer might have just put on the sweater to draw attention to herself.
"Why would you wear that brand with all the hit it's getting. Unless you wanted more publicity. As a woman mum and a brand I'd not wear that."
Diana has, however, remained mum on the matter despite the backlash.
Balenciaga scandal
Not too long ago, Balenciaga pulled down their ad; the designer's gift collection campaign, which featured little children posing with the brand's teddy bear purses that many claimed had BDSM and bondage-inspired accessories.
The campaign caused an uproar among concerned individuals who suspected there was more to the advertisement than what meets the eye.
Balenciaga's creative director Denma Gvasalia apologized to the public shortly after, stating that the outcome of their campaign was never their intention.
"I want to personally apologize for the wrong artistic choice of concept for the gifting campaign with the kids and I take my responsibility. It was inappropriate to have kids promote objects that had nothing to do with them. As much as I would sometimes like to provoke a thought through my work, I would NEVER have an intention to do that with such an awful subject as child abuse that I condemn," he said.
Despite the apology, celebrities worldwide, including business mogul Kim Kardashian have pulled out from their partnership with angry citizens pressing for the cancellation of the brand.
Related Topics