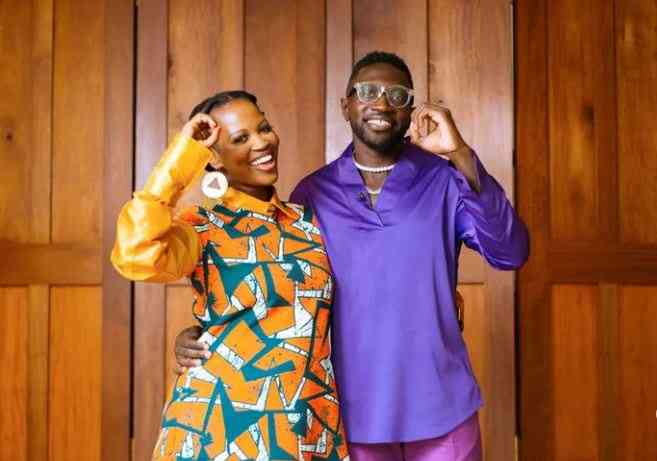 Sauti Sol band member Polycarp Otieno alias Fancy Fingers has shared that the year has thus far been great to him and his wife, Lady Mandy, as they clock four years into their marriage. Announcing the news in style, the father of one released a video to his latest song, 'Follow' with American singer India Arie which has footage of his wedding day back in 2018.
Through social media, Polycarp expressed his love to his wife, promising her that his love for her is forever.
"4 years ago, today. One of the best days of my life. To my partner of choice, my love for you is forever. Let's keep doing this thing called life until the wheels fall off!," he wrote in part.
In the song, Polycarp confesses that he will follow his love to the end because life together is at its sweetest. In response, through social media, Lady Mandy reassured him of her love, promising the same to him.
"Four years ago today, two kids threw a party to celebrate a thing called love (I hear people call this a wedding?. My dude I chose you then and I choose you now, let's keep rocking because me as me, I love you long my lover," she posted.
The couple further expressed their gratitude to singer India Arie who agreed to collaborate with Polycarp on the song to honor their 4th year as man and wife.
"To a queen @indiaarie your gift of song has always blessed my soul in so many ways but this will forever be a blessing . Thank you for honoring our love in a special way," wrote Lady Mandy.
Just last year, Polycarp defended his marriage after cheating allegations surfaced online. Then, word went around that the singer had been spending some time on a private beach in Watamu alongside an unidentified woman.
Cautioning bloggers, Polycarp stated that the lady he was seen with was just a fan who was excited to have bumped into him.
"So now I can't hang out with my female friends…I do not have a girlfriend, I have a wife. It's unfortunate that people are out to taint other people's lives. I saw this lady taking a pic of me and I let her entertain herself…please carefully analyze what is sent to you," he said.
Related Topics