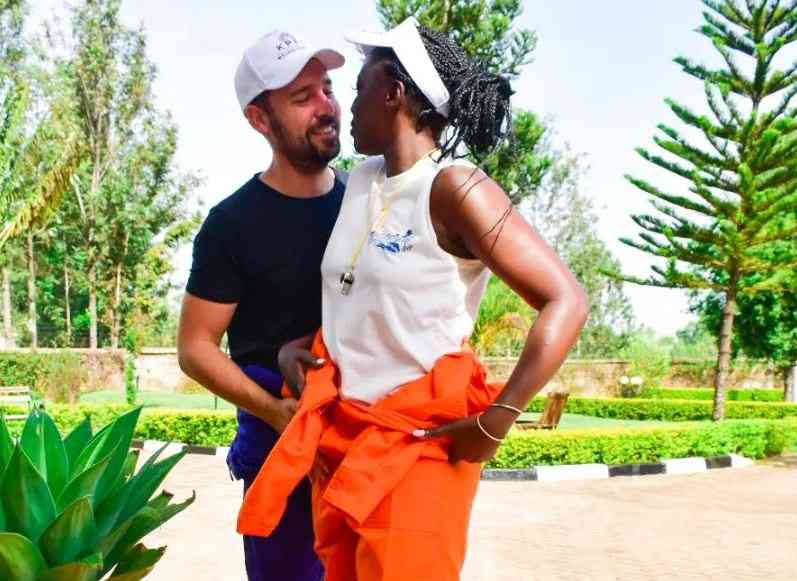 Akothee's boyfriend, 'Mister Omosh', has come out to tell how he met the singer and what attracted him to her.
Sharing their first encounter in a recent social media post, Mister Omosh said he met Akothee while she was in France for a holiday.
Because of how intrigued he was by her, Mister Omosh, through the help of his friend, convinced the businesswoman to visit Switzerland for their first physical meet-up, which ended with them making their relationship official.
"The first day I encountered with Esther, I met her through my friend Pius who lives next to Lake Zug, she was in France heading to Italy for her holidays and after this video call I said to myself I must meet her in person. Then Pius convinced her to come over to Switzerland, and on the 16th July Esther Akoth Kokeyo was mine," he shared.
Mister Omosh said Akothee's fame and status did not hinder his affection for her, adding that her spirit, mind, and personality fascinated him the most.
"I didn't care of her status or who she is, I fell in love with her brain, spirit, personality, energy and she is beautiful @akotheekenya," he added.
Responding to the romantic message, the mother of five said she was not aware of 'Mister Omosh's' sly gesture of saving their first phone call but was head over heels in love with him.
"Honey you took a screenshot of me on day 1. Well I got lost too, I love you," she replied.
View this post on Instagram
Addressing her relationship in a separate post, Akothee shared a romantic picture in the company of Mister Omosh, something she often believes upset many.
In her explanation, most individuals avoid posting such pictures because they are not in one relationship, and their multiple other partners will see them.
"I know you all have such a photo in your phones but you can't post because he belongs to someone and you equally belong to so many and the line is endless situation ship. Wacha wivu kubali nimependwa iishe," she wrote.
The vocal social media influencer compared white men to black men, stating that white people are more truthful and purpose-driven than black men.
"Mzungu will tell you as it is. If he wants sex only he will tell you, if he wants a relationship he will tell you. If he is in a relationship he will tell you, if he is married he will also tell you. They are straight to the point. If the relationship is over he will also tell you. That's the difference between them and us," she added.
Related Topics