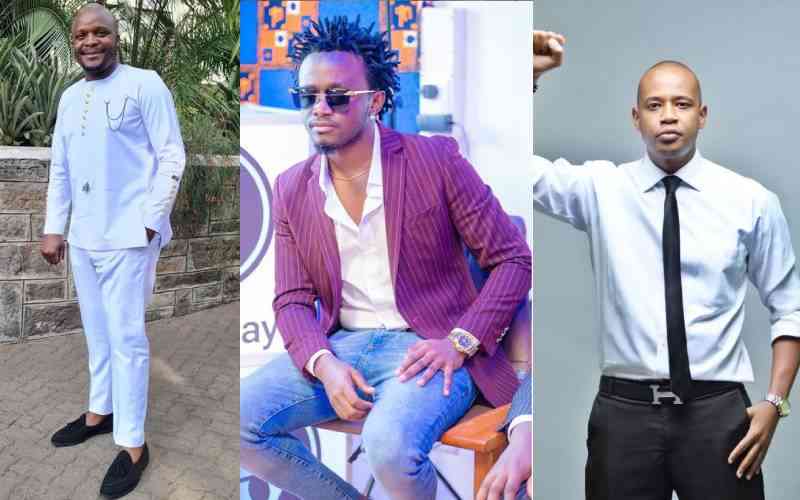 The 2022 General Election saw youthful celebrities try their luck in the murky waters of politics. However, only a handful have managed to clinch the seats, making their way into the next Parliament.
UDA candidate Nixon Korir conceded an early defeat in the Lang'ata parliamentary race, paving the way for his competitor, media personality Felix Odiwuor, alias Jalang'o.
Korir said he made his move following tally results which showed Jalang'o leading and congratulated him saying, "chuki si siasa."
"From the results that we've tallied at the Generali centre, my competitor Jalang'o has a lead and I want to congratulate him as he prepares to take the mantle and move Lang'ata forward, " he wrote on Facebook.
Jalang'o was later declared the winner after he garnered 38, 948 votes, beating Korir, who polled 36,836 votes.
Sportpesa CEO Dennis Karauri is the incoming Member of Parliament for the Kasarani constituency after garnering 32,406 votes, defeating John Njoroge and Mercy Gakuya with 30,444 and 24,790 votes, respectively.
"What God has done no man can undo. It's a new dawn in Kasarani. Kazi ianze sasa. #Captain Ronald Karauri- #Incoming Kasarani MP," Karauri wrote on Twitter.
Former KBC anchor Naisula Leesuda has retained her seat as the Samburu West MP. Lesuuda, whose political journey started in 2013 when she was nominated to serve as a Senator in Kenya, became the first woman to be elected as an MP from Samburu County in August 2017.
"Thank you God and the people of Samburu West. Mbele Pamoja and as always Mungu Mbele," she wrote on Twitter.
21-year-old environmentalist Anita Soina had every intention to bring change to her people as she went for the Kajiado North MP seat. However, Anita says her journey into politics has been full of challenges and obstacles but instead, she took it as an opportunity to "learn, interact and share ideas and possible solutions to our challenges."
After tally results, the Spicewarriorske Founder conceded defeat in favour of UDA's Onesmus Nguro Ngogoyo for the Kajiado North constituency.
"In a competition amongst 16 candidates only one was meant to be the winner and so I Anita Soina, The Green MP concede defeat and promise to support the Kajiado county government and Kenya's government where needed as we strive to make Kajiado and Kenya a better place for every citizen," said Soina.
Comedian Jasper Muthomi aka MC Jessy was seeking to 'redefine' South Imenti but lost the parliamentary seat, terming his experience in politics as a "journey of daring hearts."
"I personally want to congratulate my worthy competitor Dr Shadrack as he prepares to be the new Mp for South Imenti. To my supporters take heart ni Siasa tu, let's keep moving South Imenti as one Great Community," wrote Mc Jesse.
Radio presenter and reggae emcee Mary Njambi Koikai, aka Jahmby Fyah Mummah, wanted to be the MP for Dagoretti South, saying she had first-hand experience with the constituency's harsh living conditions citing lack of proper healthcare, inadequate security and basic amenities.
However, even though she did not get the chance to fulfil her promises after conceding defeat, Koikai says she's still committed to bettering the lives of Dagoretti South residents.
"We built a grassroots movement, we inspired people, we had big ideas to transform the lives of the people in Dagoretti South. However, we did not reach our goal. Although I will not be able to fulfil your hopes, I will continue my commitment to the betterment of the people of Dagoretti South," Koikai wrote on her Instagram.
Footballer and UDA's Mcdonald Mariga came in second in the Kibra parliamentary race with 20,049 votes, after ODM's Peter Orero won the seat with 33,008 votes, while the incumbent Kibra MP Imran Okoth (independent) came third with 18, 901 votes.
Celebrity personalities Gabriel Kagundu aka Gabu, and Davidson Ngibuini, popularly known as DNG, went head to head for the Woodley Golfcourse Member of County Assembly seat.
However, Gabu conceded defeat in favour of DNG, saying he would take into account the lessons he learnt and come back even stronger.
"I take this opportunity to congratulate the winner of the Woodley Member of County Assembly seat. In every race there is a winner and the one to accept defeat. We ran a good race, we did the work but this was not our time," wrote Gabu on Instagram.
Leading the tally results, DNG posted on Instagram saying, "We fought hard as a Team. We have campaigned hard as a team and have overcome all odds as a team. Most importantly, God has seen us through."
Gospel musician Eko Dydda, who ran as an independent candidate, posted on his social media saying he clinched the seat for Member of County Assembly for the Mathare North Ward. His win is yet to be confirmed by the IEBC.
In a previous interview with Standard, the musician said he believed the time was right, saying he was the right leader to bring change to Mathare.
"Leadership is like a God-given talent. You can't really hide it. I have always had this burning desire to transform my hood, having lived here for many years. I know what needs to be done and I have a clear plan on how to achieve my objectives," he said.
Singer Kevin Bahati was yet to know his fate in the Mathare parliamentary race by the time of publishing this.
Related Topics