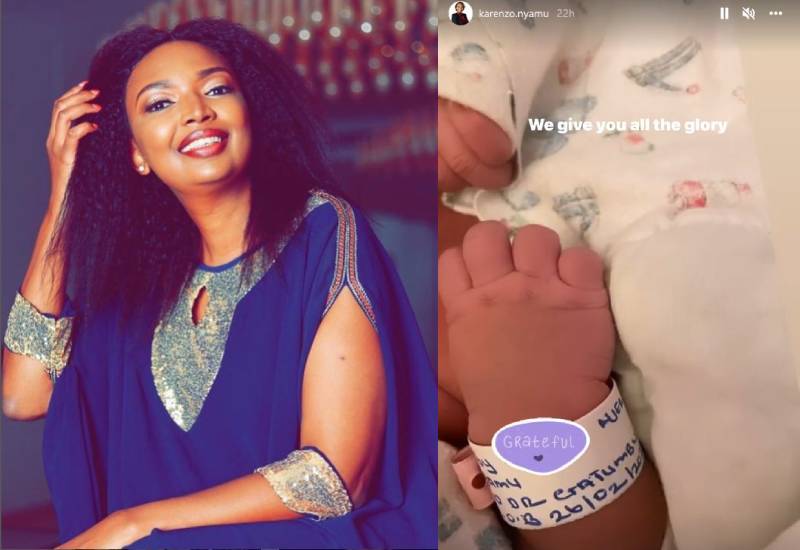 Nairobi senatorial aspirant and lawyer Karen Nyamu has announced the birth of her baby girl, her third child now and coming just over a year after her other delivery.
Nyamu uploaded the adorable image of her newborn's hand on her Instagram stories, the name 'Njeri' visible on the hospital tag.
She accompanied the post with the caption "Grateful".
Last week, Nyamu celebrated with her close friends in an intimate baby-shower.
The elated mom shared that her friends had to trick her in order to get her to the venue, gushing about them for spoiling her and being there during every baby shower she has had.
"Yesterday my day ones did the thing, I was dozing off at the antenatal clinic and I couldn't wait to get home and sleep. So when Bakhita tried to sneak in her 'Tuesday plan' I was having none of that!" Nyamu wrote on Instagram.
She added: "Haikua rahisi but nilifika (It wasn't easy but I went) to my beautiful surprise baby shower. It was nice, intimate, and made me reflect, these girls have been involved in all my three baby showers. Going all out and gifting me! Of course nililia (I cried) hio ni (that's a) standard. Thank you babe gals."
The theme colours for the event were gold and white, and the set up was glamorously decorated in the colours.
Nyamu said that the father of her daughter is the popular Mugithi singer Samuel 'Samidoh' Muchoki on an Instagram live session in August last year, while revealing that the two were not on good terms.
The lawyer turned politician accused her former lover of physically assaulting her in an emotional clip on the platform.
"My hair has been pulled you guys and I am just three months pregnant, imagine. He knows I'm pregnant and still beat me up. We have to teach these violent guys a lesson. I have never experienced this myself, I just read about it. I am shocked. My daughter was shocked, she was crying and is still crying," Nyamu said on the clip.
The Standard Entertainment and Lifestyle cannot, however, confirm Nyamu's allegations.
Nyamu and Samidoh share a toddler son together - a situation that was initially complex as the Mugithi singer is a married man.
In November last year, Samidoh hinted that the two were just co-parents while opening up about his links with Nyamu on an interview.
"She is the mother of my child. Life has taught me that when you find yourself in a hole stop digging. Stop figuring out how you will get out," the artiste said, adding, "People assume they know everything about me. I do not need to explain myself, whatever people want to assume of me they are free to do so."
Related Topics