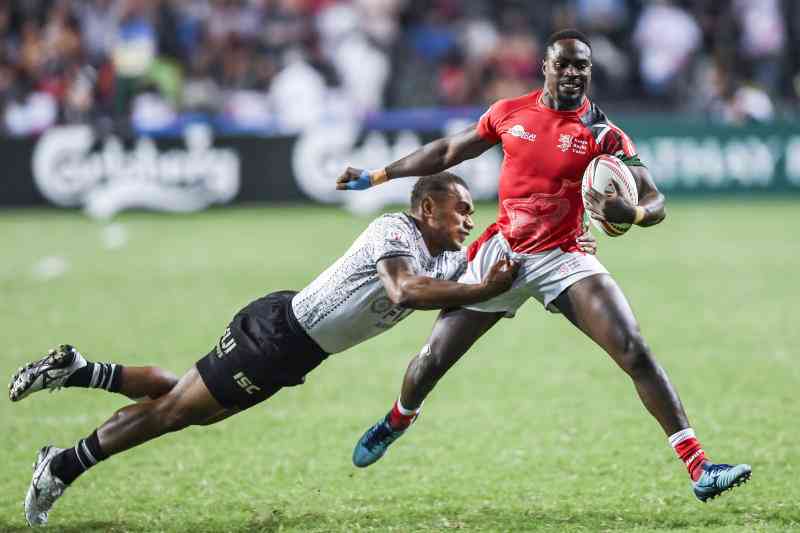 Kenya Sevens will renew their rivalry with Fiji at the Hamilton Sevens in New Zealand when the World Rugby Sevens Series this January after the Christmas break.
The series took a six-weeks festive season break after three legs played in Hong Kong, Dubai and Cape Town where Kenya performed below par once again despite many promises and talk of newfound power and gear to reclaim lost glory.
The Damian McGrath led side will face Fiji in Group A which also has current World leaders and immediate Cape Town Sevens champions Samoa and France.
In 2016, Kenya inked themselves into the history books of the World Rugby Sevens Series after pulling off a stunning 30-7 victory over Fiji to win the Singapore Sevens, their only series leg win so far.
The match is expected to elicit more from the two sides who have been blowing hot and cold this season.
Shujaa finished 13th to collect three points from Cape Town Sevens as Damian McGrath charges end the year winless at the group stage level where in three outings they have failed to win any pool match.
Kenya collected one point from Hong Kong Sevens before improving to get five in the previous leg in Dubai.
With three points from South Africa, Shujaa are now 14th in the World standings after three rounds.
Kenya will have to put up with early pressure as they sit at the bottom of the log with one point with the threat of relegation very much looming this season as the number of teams for the 2024 Series will reduce from 16 to 12 to equal the number of women's teams and align with the Olympic competition structure.
Samoa goes into the tournament on the back of an impressive showing in Cape Town where they defeated New Zealand 12-7 to lift the main cup title that propelled them to the top of the Series standings after the third outing of the season while Fiji are always one of the teams to beat in the circuit.
France are also currently enjoying a good season as they are in seventh place on 38 points, only nine behind leaders Samoa while Shujaa wallows in the relegation playoff spot of 14th having had a dismal start that has seen them garner only nine points so far.
Hosts New Zealand are in Group B with Great Britain, Australia and invitation team Tonga while Group C includes the USA, Uruguay, Ireland and Japan.
South Africa, winners in Dubai are in Group D with Argentina, Spain and Canada.
Hamilton Sevens groups
Group A-Kenya, Samoa, Fiji, France
Group B-New Zealand, Great Britain, Australia, Tonga
Group C- USA, Uruguay, Ireland and Japan
Group D- South Africa, Argentina, Spain and Canada
Related Topics