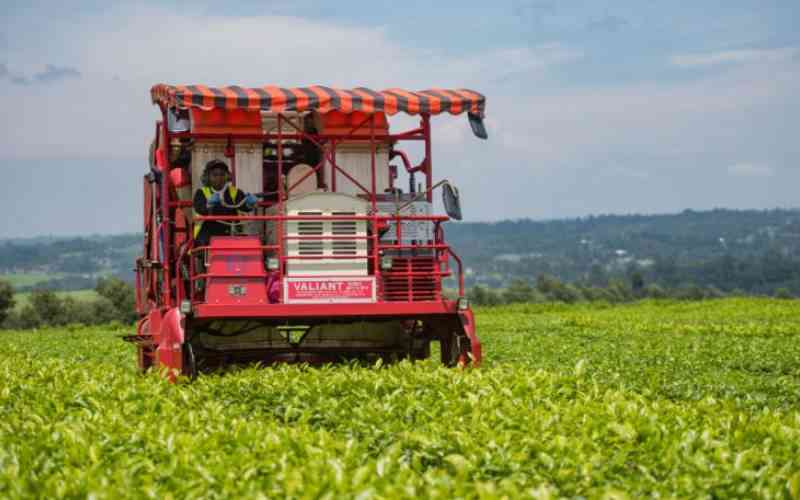 Leaders from Kericho and Bomet counties have apologised for their previous utterances, which sparked a wave of arson attacks targeting tea harvesting machines owned by large-scale tea farms.
Speaking after a meeting in Kericho town, the leaders, including a governor and two senators, said going forward, those staging attacks on the multinationals will carry their own cross.
They apologised after large-scale tea farms suffered huge losses, suspended operations and sent thousands of workers home without pay.
The leaders urged tens of youth on the rampage against Eketerra Tea Company to stop the chaos even as Interior Cabinet Secretary Kithure Kindiki issued a stern warning against perpetrators of the violence.
"We have apologised for our previous utterances. We are calling on our people to stop the invasions and burning of machines and allow the investors go on with their business," said Kericho Governor Erick Mutai.
Senate Majority Leader and Kericho Senator Aaron Cheruiyot, said politicians and administrators had agreed to dialogue with the various parties, including the youth, elders and companies' management.
"We want a cordial solution to the benefit of all parties involved in the stand-off," said Cheruiyot.
His Bomet counterpart Hillary Sigei noted that the riots, if allowed to continue, risk driving investors away, aggravating the unemployment rates in South Rift.
The apology came as CS Kindiki said security agencies in the two counties, will enforce the law firmly and decisively and shall apprehend all criminals without fear or favour.
He said 11 suspects have been arrested and will be charged in court.
He said security and intelligence teams have also narrowed down on other key suspects who are still at large, including political leaders and businessmen, suspected to have incited the public.
"These political and business leaders will be required to record statements before the respective County Security and Intelligence Committees in coming days. Anyone found culpable will be prosecuted in accordance with the law. No one will be spared," the CS said.
Seven people, including five police officers and a journalist were injured in the Kericho protests around Brooke Shopping Centre.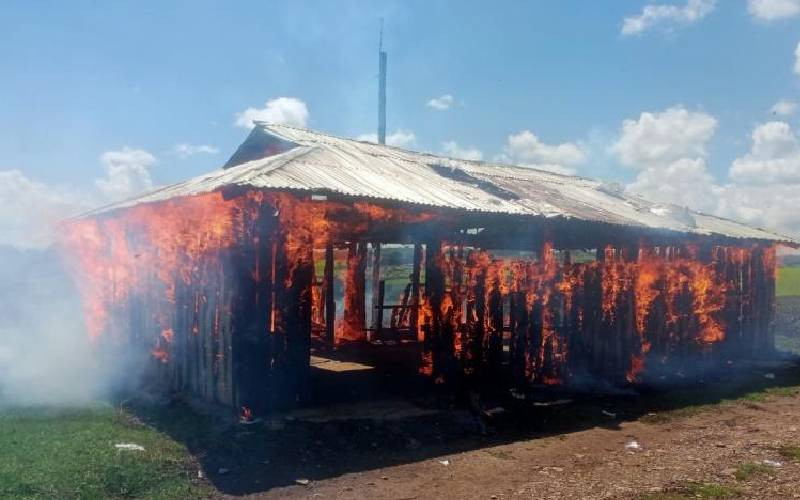 The attacks on multinationals started during the campaigns where outlawing use of machines in tea harvesting was one among many grievances from South Rift residents.
During the campaign season, politicians wooed the electorate by firing shots at multinational tea farms over the deployment of tea harvesting machines.
In May 2022, the Kenya Kwanza Alliance leaders, during a thanksgiving rally in Kericho town, assured workers in tea estates in Kericho and Bomet counties that it will review use of mechanised tea harvesting machines if it forms the next government.
National Assembly Speaker Moses Wetang'ula and the Kericho Senator led other leaders in declaring war against the machines. Wetang'ula was accompanied by Deputy President Rigathi Gachagua.
"Tea workers have been left on their own. We, however, pledge that the Kenya Kwanza government will outlaw the machines. The jobs for tea pluckers must be restored. Our business will be to create opportunities for ordinary citizens," he said.
Kericho Governor Erick Mutai, Senator Cheruiyot, and MPs Nelson Koech (Belgut) and Joseph Cherorot (Kipkelion East) argued that the use of machines in harvesting tea was to blame for rising unemployment among residents as well as stagnation of the local economy.
Mr Cheruiyot promised to outlaw the use of the machines in harvesting tea and ensure jobs for locals.
Mr Koech said deployment of heavy machines had caused a sudden slump in the local economy by an estimated 20 per cent.
"If the multinational tea firms want to deploy tea harvesting machines, it should be only for 30 per cent of the work and 70 per cent left to the pickers," said Koech.
He said the National Assembly should also recommend the mandatory maximum percentage of tea plantations that multinational tea firms must harvest mechanically to avert further job losses.
Azimio la Umoja-One Kenya leader Raila Odinga while in Kericho in July 2022, joined hands with Cotu in the fight against mechanisation of tea harvesting. He spoke during Azimo's campaign rally at Kericho's Moi Gardens.
Raila had promised to compel the multinational tea firms to resume to hand-plucking of tea and create jobs for the locals, if elected.
Related Topics