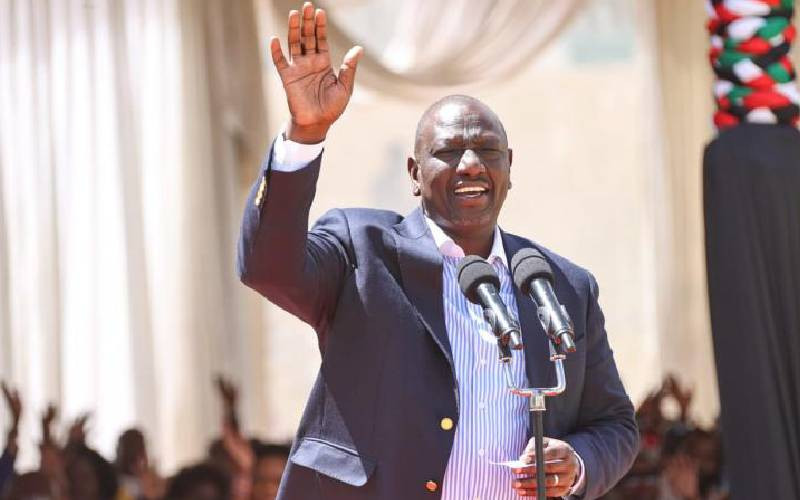 The political face-off between President William Ruto and opposition leader Raila Odinga took a new twist yesterday, with the former accusing shadowy backers of the ODM leader of benefitting from unfair tax exemptions.
In a broadside delivered in Mombasa, Ruto said entities that benefitted from unjust tax arrangements of past regimes were sponsoring Raila's recent political activities.
The president appeared to be taking cue from events in Nairobi on Sunday when Kenya Kwanza digital operative Dennis Itumbi linked Raila rallies to unnamed persons "opposed to the fact that everyone must pay taxes."
On Monday, as Ruto spoke in Mombasa, UDA leaders threatened to name Raila's financiers.
Addressing MPs in Mombasa, the president said the State will not exempt anyone from paying taxes, even if they support the opposition leader's anti-State campaigns.
"Even if they sponsor demonstrations, I want to assure them that they must pay taxes. We must have a country where everyone pays taxes," Ruto said, adding: "I am not talking about new taxes but taxes agreed upon by Parliament."
More equal
Ruto likened the situation obtaining to George Orwell's "Animal Farm."
"We are not the Animal Farm where some people are more equal than others. We must all pay taxes. It does not matter how many rallies you sponsor to derail our agenda. You will pay taxes," the president said.
Shortly after Ruto's Mombasa address and UDA leaders' presser, Itumbi posted a 2021 petition to Parliament seeking the repeal of Estate Duty Act, Cap 483, and linking it to Ruto's address.
He claimed the handshake politics frustrated the petition.
The petition aimed at repealing a sections of the Act passed in 1969 and 1981 exempting estate duty levy on key office bearers of the time.
In Mombasa, Ruto had alluded to what he described as unfair tax arrangements by those in power.
"We cannot continue to operate in a space where those in power exempt themselves from paying taxes using all manner of instruments, while those who do not have power pay taxes," he said.
In their media briefing, UDA politicians led by Senator John Methu (Nyandarua) claimed former President Uhuru Kenyatta is using Azimio leader to mislead Kenyans.
Uhuru backed Raila's presidential bid in August last year. He also chaired the Azimio Council but has kept off local politics, at least in public, concentrating on regional peace initiatives.
In the last week, Raila has held two rallies during which he rallied supporters against Ruto's government, saying he colluded with the electoral commission to steal his electoral victory. He said he will not recognize the legitimacy of Ruto's presidency.
"We will not allow anyone to intimidate the president, and we already know individuals who are funding Raila rallies. We will go after them," Senator Methu said at the Kenyatta Convention Centre.
The leaders said the Constitution created enough avenues for people who follow the law to engage the government.
"We have the Supreme Court which ruled in favour of Ruto after Raila presented hot air as evidence. We also have the Parliament, the constituency, and the independent police, which he can use to raise issues in his capacity as an opposition leader or a citizen to allow the country to move forward. I should not be lecturing him on the simple things since he has been here for years," he added.
Kirinyaga Senator James Murango said many leaders in the previous regime were behind Raila's rallies to stop the state from demanding billions of shillings in taxes from them, which they have accrued for years.
"We can't allow the state to bow down to state capture and impunity," he said.
The UDA leaders warned that those calling State officers to intimidate them so that they don't pay taxes will also be dealt with ruthlessly under the law.
The leaders said that Raila will not help those who have benefitted from past tax laws, warning that Parliament will terminate all bad policies that do not favor the interests of Kenyans.
"We are happy that the president is focused on serving Kenyans, and he has been listening to us. We represent Kenyans in the second arm of the government, which is the Parliament, and we will protect the rule of law and good governance today, tomorrow, and forever," Methu said.
Several meetings
The politicians told the media that they are aware of several meetings in Maasai Mara, Mount Kenya, and Mombasa of the financiers of the Azimio rallies and they are ready to face them. "We know some who never pay land rates and are here giving us a hard time," Nyeri Senator Wahome Wamatinga said.
Wamatinga said that it was the responsibility of all Kenyans to pay their taxes so that they can also access good services.
"We will ensure that the law is followed so that everyone remains equal in this country," he added.
The leader warned Azimio leaders against intimidating Kenya Kwanza administration.
"It is about time we told Kenyans the truth," the senator said.
Related Topics