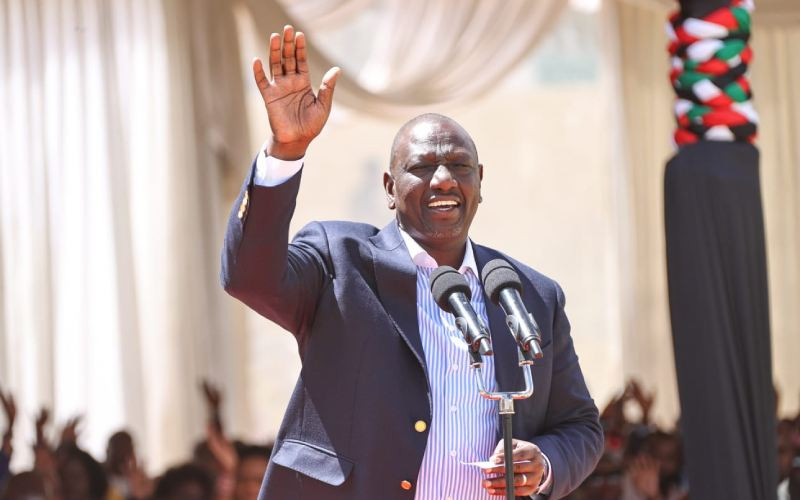 President William Ruto has responded to Azimio Leader Raila Odinga's allegations, during a public rally held at Jacaranda Grounds yesterday.
While addressing his supporters in the capital on January 29, Raila had dared Chebukati and the three Commissioners to reveal to Kenyans their reason for visiting his home days before announcing poll results.
The president gave a response to the opposition chief during the launch of the 16th Annual General Meeting and Conference of Africa Prosecutors' Association, Mombasa County.
In his response, the president has also weighed in on the matter, challenging him to also disclose why he invited Independent Electoral and Boundaries Commission (IEBC) officials to his home.
"I understand prosecutors come under immense pressure for other political interests. Yesterday I was listening to one of our politicians who was alleging that IEBC officials went to his house. He is telling these stories five months after the act. He is volunteering this information with insinuations that the officials went for something he has not disclosed," the president said.
Ruto has also questioned why the former Prime Minister did not share the allegations with the Supreme Court but opted to share them in a public rally.
"It begs the question. If it is true, what were they doing in your house at your invitation? Being a candidate how did you end up inviting IEBC officials into your house?"
"You had an opportunity to bring this evidence to seven judges at the Supreme Court but you did not. Instead, you have opted to take it to a political rally. A prosecutor's job is hard if you have to deal with such," the president adds.
While addressing prosecutors from across the continent, Ruto pledged his support for an independent Office of the Director of Public Prosecutions.
"I am aware of the challenges this office has gone through. I am committed to giving support criminal justice system and ensuring it is not weaponised for political reasons We shall also ensure the criminal justice system remains independent and professional because every citizen is entitled to fair treatment by all public institutions," Ruto says.
During the Jacaranda Rally, Raila said the former IEC Commissioners said that some people tried to bribe them but they have not said why they visited his home.
He also disclosed that they asked him for something, and he has evidence which includes pictures of their visit and he will make it Public if he has to.
"Chebukati is saying there are people who tried to bribe him, even his other colleagues Guliye and Molu. I want to ask them what did you come to do in my house? What did they ask me for? I have pictures and if they continue playing I will make them public."
Raila was responding to an allegation by Wafula Chebukati that officials from the National Security Advisory Council together with Tuju tried to bribe them into announcing a Raila victory.
According to the former Commissioners, they discouraged any continued talk of the same.
Related Topics