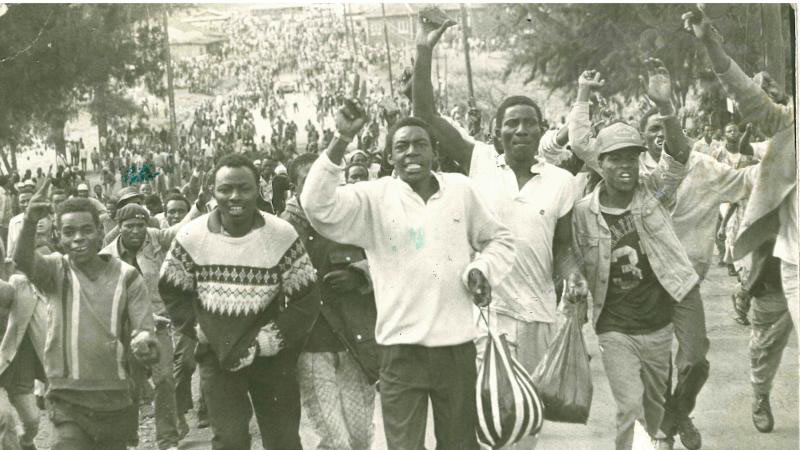 Sometimes in 1990, two political 'dissidents' went to Cargen House in Nairobi's Moi Avenue.
Controversial former Kitutu Masaba MP George Anyona and his neighbour in Madaraka Estate Njeru Kathagu's mission was to rein in a man disgraced by the ruling party Kanu and thrown into political cold.
Their meeting with Kenneth Matiba had been brokered by former powerful Cabinet Minister Simeon Nyachae, who was now being treated as a Kanu pariah.
In the meeting, Matiba was briefed on the status of the clamour for political pluralism and he embraced the call for the push for many political parties.
But Anyona and Kathangu, who had both tasted the wrath of the system by being jailed and detained for contradicting the Kanu regime, warned their host that the government had demonstrated willingness to ruthlessly deal with dissidents.
"When we told Matiba not to be careless as he could be arrested or even eliminated, he laughed off our caution and and exclaimed, I cannot be detained or jailed," said Kathangu.
Apparently, Matiba, who had been stripped off his ministerial position and Kanu posts, was not a good student of history. This very man, a Gikuyu, Embu and Meru Association (Gema) insider during Kenyatta's time, had backed a motion in Parliament led by his colleague Mwai Kibaki making Kenya a one party state. That was in June 1988. Fast forward to 1990, and Kanu had ostracised him.
Matiba was an angry man openly challenging the system, but still believed the government could not touch him. Kibaki too had been demoted from Vice President and was now the Health minister. This was a miscalculation Matiba was going to pay for heavily.
But he was yet to make the gravest mistake, one that would change his destiny. On May 23, 1990, Matiba let out a political thunderbolt. With former Cabinet Minister Charles Rubia, he called a press conference in which he demanded the introduction of multi-party democracy. He also announced that there would be a rally on July 7 at Kamukunji in Nairobi.
He had fired the first salvo. The response from the government would be fast and brutal.
The original plan was to first form a political party -- Kenya National Congress (KNC) -- which was to be launched on July 1, 1990. This was to be followed by a series of activities agitating for political reforms.
But Matiba had let the cat out of the bag and gave security agents reasons to start shadowing him wherever he went.
Before Matiba was reigned in, a committee comprising of Isaiah Ngotho, David Oyugi, Kariuki Gathitu, Anyona and Kathangu had been covertly meeting to plan the activities of the yet to be formed political party.
They did not say a word to Matiba, Rubia and Raila Odinga.
With the plans for the formation of a political party now in jeopardy, the central committee went on secretly with their activities. Matiba on the other hand intensified his attacks on the government. Nyachae had also singlehandedly taken on the Kanu government and had been buying space in major newspapers to denounce it.
And as Matiba spent all his energies warding off the police, the committee leased an office at Musa House overlooking Kamukunji. Using a telescope hidden in the office, Kathangu and his co-conspirators monitored the venue of the much anticipated meeting.
The planners then distributed leaflets across the country inviting Kenyans to Kamukunji on July 7. The rally was to start at 10 am, the leaflets said.
Four days before the planned rally, Matiba, Raila, Rubia and other leaders were arrested. But unknown to the police, Kathangu and his committee had other plans, arranging buses to ferry supporters from all over the country.
"We had three groups of people. In the middle was a group of boys who were playing soccer. On the fringes of the venue were three groups of people seated in different positions just like locals discussing events," said Kathangu.
Despite all their planning, the police still raided Kamukunji and started dispersing the multitudes. By then, word had spread around the city. Thousands were out in the street battling the police and the attendant chaos rapidly spread to other parts of the country, making it ungovernable. Scores were killed in the city and around the country.
Consequently, Anyona, Kathangu, Ngotho, Oyugi and an estimated 5,000 other people were arrested and locked up in various police stations across the country as chaos reigned. Kamukunji and the aborted rally dubbed Saba Saba became a rallying call for mass protests to pressurise the government to scrap the contentious Section 2a of the constitution which had made Kenya a single party state.
With most of the multi-party proponents gone, Jaramogi and a five others devised a plan to keep the political fire burning. Former legislator George Nthenge recalls how they outfoxed the government as they kept up the pressure and the hard-nosed intelligence officers at bay.
"Jaramogi was an old man and he knew that if he brought nine other elders together, the government would not risk international condemnation by arresting us. This is how Masinde Murilo and Martin Shikuku were sent to recruit me. Ahmed Bahmariz was also recruited but we could not get three other elders to bring the total to nine" he said.
The six would meet in a lawyers office, receive feedback from scholars and legal experts and then convene international press conferences. They continuously hammered at the government until it caved in to external pressure.
Ironically, Matiba, Raila, Rubia and other reformists were in jail when the constitution was amended and Kanu agreed to hold fresh elections.
"While we were in prison, 19 parties were formed by the government through intelligence service. The parties had handpicked leaders to head these parties. All we could do was try to fit in to them as the country hurtled towards a General Election," Kathangu said.
Predictably, Kanu won the 1992 General Election as the many parties Kenyans had been fighting for were dogged by leadership wrangles, at times splitting into several entities.
Yesterday, as the 28th Saba Saba Day passed without fanfare, Nthenge, who will celebrate his 91st birthday this August, lamented that although Kenya achieved political reforms, the country has been gripped by worse cancer where occupants of public offices are behaving like demigods, plundering scarce resources as taxpayers suffer. "That is why I retired from politics in 1997. Parliament has become a place for wealth accumulation where leaders are not there to serve the people who elected them. At 91, I am still operating my shop at City Market. I do not want ill-gotten riches," he said.
Kathangu believes Kenyans have become too docile and should wake up and start demanding answers on why the country is still mired in corruption, ethnicity and exclusion and are too trusting to leaders who plunder public coffers.
Related Topics