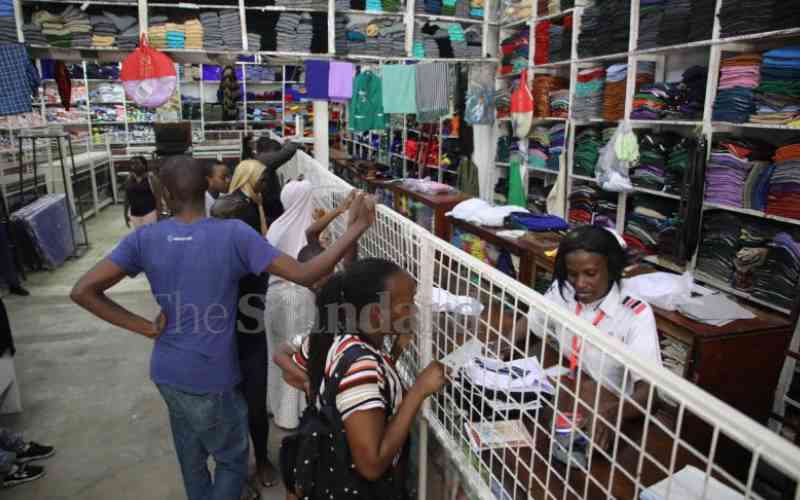 The beginning of the academic year in Kenya brings with it a heavy financial burden on parents of learners in basic education institutions, especially those whose children are joining form one.
The parents are required by the schools to purchase school uniform and other necessities besides paying school fees. The issue of school uniform has of late generated more heat than any other school requirement. Schools issue instructions on how and where parents are expected to acquire the uniform.
Some schools, mainly day schools, only require learners to appear in school in uniform purchased from the market. In this case, the school specifies the colour of clothes and shoes that students should buy.
The more established and bigger schools have more strict instructions to parents on the uniform requirement. Many schools issue the uniform at school and charge for it, whereas others direct parents to suppliers of the uniform.
Items provided include shirts, blouses, skirts, pairs of trousers, games kits, T-shirts, socks and pullovers. In some schools, the items also include jumpers, bed covers, buckets, plates, spoons, cups and mattresses. Most of these items are branded with the name, logo and motto of the school.
The requirement and provision of uniform in schools has, however, not been the issue of contention. The elephant in the room has been the cost. Some schools charge as much as Sh25,000 for the uniform!
This has elicited the radical suggestion that school uniform should be done away with altogether. Is it, therefore, time this issue of mandatory school uniform is interrogated soberly?
School uniform is an age-old phenomenon. It is believed to be a practice which dates back to the 16th century in the United Kingdom. Christ's Hospital School is cited as the first school to have a school uniform.
In the United States, uniforms are a relatively new phenomenon, only introduced less than 40 years ago primarily to tackle the problems of violence amongst students who fought for designer clothes. The tradition began as a way of injecting equality among students regardless of their parents' wealth.
The proponents have often enumerated a litany of pros in support of learners being in uniform, mainly that it breaks down class barriers between students and promotes a sense of community in school. This increases pride, sense of belonging and patriotism among learners.
On the other hand, those calling for the abolition of uniforms in schools have raised what can be considered valid reasons. They opine, for instance, that school uniform has become an expensive component of the cost of education and yet it doesn't contribute to learning or academic achievement.
It behoves the education stakeholders to develop fair guidelines on this thorny issue. The recurrence of the debate is not unavoidable.
-Mr Muthama is the principal of Igandene Boys Secondary School in Meru
Related Topics