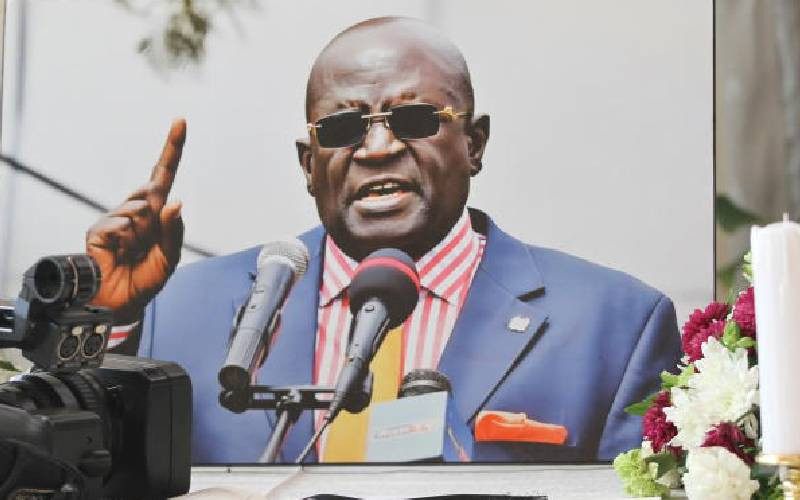 I first met Prof George Albert Omore Magoha in 2001 as he was making waves as Dean of the Faculty of Medicine at the University of Nairobi and we remained confidants till his death.
From that first encounter, it was clear Magoha was not just another dean. He was a man on a mission and was not going to fade away soon.
The University of Nairobi's Medical School had been going through a rough patch when Magoha was elected unopposed as dean. It was in his capacity as dean that Magoha started applying the toughness and the go-getter approach that Kenyans only came to know when he took over at the education ministry. It was as dean that he began putting into practice his doctrine of firm, flexible and fair leadership whether he was dealing with students, fellow deans or the university administration.
He insisted that his students were future doctors and they had to behave as future doctors. When they had issues with him, he expected them to organise themselves, choose a leader, book appointments and see him. He made it clear that he doesn't talk to a mob and to people who blow whistles and shout at him. He also made it clear the students had to realise that when they make a request, the answer could be either yes or no.
He wanted university students to be people he could reason with over a cup of tea, and when it got to a stage where a student would not treat him with respect, Magoha would know he was at a wrong place and leave. As he laid down these firm rules for his students, he also swore to make their learning experience better. He decided he would be a fighter for his faculty and ensure his demands went past the 25-plus members of the deans' committee and reached the Senate.
A faculty with a weak dean, he said, would have its demands shot down at the Deans' Committee. The faculty would then be consigned to constant suffering. In his view, fighting for the faculty required courage and strength of character, which he possessed.
Maximum exposure
He also began tapping into his international networks to expand the KNH campus that was getting congested in addition to putting students in foreign medical schools for maximum exposure. The unhappy students appeared to notice that something was changing for the better with his arrival. That is how as a journalist, I ended up paying Magoha a visit to talk about the changing face of the school. I wrote no story because he insisted nothing should be written, but we became friends.
He was only 48 but had earned his place among peers. He had served as chairman of the Kenya Association of Urological Surgeons, treasurer of Pan African Urological Surgeons Association and a member of the British Association of Urological Surgeons.
Then the Board of Directors of American Biographical Institute, USA, recognised Magoha "as most admirable and whose excellent performance in the field of urology would be recognised in 1000 World Leaders of Scientific Influence as a permanent record for research, history and inspiration." The professor agreed to speak about this, his life and doctrines for publication. He recognised the award as a special honour but begged that we do not blow it out of proportion. Despite his intimidating presence, Magoha was modest but proud of his academic achievements.
It turned out then that around the same time, the professor had been into many other epoch-changing engagements that he had kept to himself. He had been advisor to US company Pfizer Laboratories which had developed Viagra but was having a problem marketing it in Africa. Viagra had been launched in Kenya in 1998.
The problem, as Prof Magoha saw it, was that Africans don't' talk about sex and erection. The problem which Viagra was to deal with was regarded as a curse or witchcraft and not a disease. There were also fears about Viagra's side effects. He worked with doctors from Africa, Middle East and Asia on safe use and cultural barriers in these areas. At the time, he said Viagra was selling at Sh600 a tablet. Despite the high price, it was beginning to sell very well in Kenya.
His arrival at the University of Nairobi's main campus as Deputy Vice-Chancellor in charge of administration and finance coincided with another challenging time. As always, students were in ferment. Parallel degree courses were underway and the place was bursting at the seams. Facilities were stretched beyond limits. Lecturers complained that they were not being paid despite putting in long hours to accommodate parallel students. Students on the other hand complained that lecturers were not teaching despite hefty fees paid for parallel courses.
The University of Nairobi Enterprises and Services (UNES), a body set up to manage funds generated from parallel programmes, was being accused of mismanaging the funds. UNES became one of the early victims of Magoha's arrival. Magoha decided there would be nothing like UNES money. All monies generated through the university's enterprises would go to the university's account to be managed by the university. Then he insisted that if there was evidence that the students had paid up, then lecturers must also be paid. He put money into infrastructure expansion to ease congestion and modernise the university because Magoha was not going to be associated with "a university that was not a university."
When it was time for Magoha to take full control of the University of Nairobi as VC, he turned his radar on three main things; absentee lecturers, activist students and infrastructure development. Lecturers had to decide whether they wanted to teach or do consultancies. Students had to decide whether they wanted to study or support politicians.
He had singled out a number of senior and famous professors as the greatest culprits. Many never attended classes and never submitted marks in time. He swore he would be ruthless with them. At one time he had a coat in his office which he said belonged to a lecturer who had the habit of leaving a coat in the office to indicate he was on duty then disappear into town for consultancies. Magoha picked the coat and left word for the lecturer to get it from him. I understood the lecturer disowned the coat.
At some stage, Magoha sought to know the physical address of Orange House, the headquarters of the Orange Democratic Movement party. He had decided that his university was not going to serve as a branch of any political party. He wanted to direct to the party headquarters any student who wanted to bring ODM politics to the university.
Much as Magoha's hands-on approach that characterised his management was driven by belief in excellence, it was also driven by two fears; the fear of failure and fear of scandal. He could not imagine being dragged to court while in retirement over some scandal he was not involved in. As VC, Magoha gave me an early morning appointment. He wanted to share in confidence the state of the university, then proceed to Moi Avenue at 8am.
His mission at Moi Avenue was to look for painters. He had discovered a specific spot where painters would sit with their brushes looking for work and he wanted to talk to them personally.
He wanted to paint the gate he had put up at the Main Campus and paint all the buildings. He explained that putting up the gate and painting the buildings were not just about security or beauty. It was his way of announcing that something new had arrived at the university and change was coming.
He later explained that the painters he had picked from the streets had done a better job, faster and at a quarter of the price the university was going to pay through convoluted university procurement systems.
His journey to Moi Avenue delayed because he remembered an "urgent matter." Students had been complaining about darkness at the tunnel that links the lecture halls to the halls of residence. There were also complaints about malfunctioning lights in Hall Nine. The professor pulled out the telephone put a call directly to the junior employee who was supposed to fix the lights. The conversation was short.
"This is Prof Magoha. That job I gave you to fix lights in the tunnel, do you need it? I am coming to the tunnel and if there is no light by the time I arrive, don't stay anywhere near the university." He later explained that he tried to know particularly junior workers because they often cause big trouble when they don't handle minor but important matters like lighting at the university. One dead bulb could cause very costly student riots.
Magoha believed he did not need the public jobs he held. That attitude helped him manoeuvre around the intrigues that accompany high-profile public appointments.
Ready to quit
At some stage as VC, he confided that he had learnt a small tribal caucus was holding meetings at night and planning to petition President Mwai Kibaki to sack him. He planned to see President Kibaki and explain to him that as a surgeon, God has been good to him. He had never lost a patient in the theatre and out of one surgery alone, he earned the equivalent of what the university paid him in a month. So he did not need the VC job and if Kibaki's tribesmen wanted the job, he was ready to surrender it. I understood he actually did though he never confirmed it.
Tough as he was, Prof Magoha actually respected people in authority and expected respect in return. In private discussions, he never referred to President Kenyatta by that title. He called him Wuod Jaduong (the son of the old man). He referred to former Prime Minister Raila Odinga as Jaduong (the old man). When a person in authority tasked Prof Magoha with responsibility, nothing would stand in his way.
One responsibility that he personalised was ending the culture of exam cheating in Kenya. Magoha said President Kenyatta had told him that cheating had become a threat to our national security as a country and all relevant agencies, not just the ministry of education, had been put at his disposal to try and end the menace.
On several occasions, Magoha expressed fear that he might fail President Kenyatta because cheating was deeply entrenched as a business in Kenya. According to him, the Kenya National Examinations Council, the ministry of education, directors in the field and teachers were right at the centre of the racket.
He believed he had cleaned up KNEC, but he retained an office there even when he was education CS just to keep an eye.
At the Ministry of Education, Magoha dreaded the people under his charge. He saw deceit and corruption in almost everyone. He believed everything was on sale or up for grabs, from money meant for schools to food meant for feeding programs to transfer and appointment letters. He knew by name the people he did not trust even as he was working with them.
He dreaded failure and the probability of being dragged into court because someone stole money. So, it was going to be his way or he resigns. But he believed he had the full backing of "Wuod Jaduong" (the president). He was also prepared to resign was over the composition of University of Nairobi Council. There are members he was determined to see out. Much as he dreaded the Ministry of Education because of the cartels, it was the place he wanted to be. At some stage, he expressed concern that he might be transferred to the Ministry of Health.
As VC, he had seen a student who arrived with grade A to study engineering and found it difficult, shifted to Bachelor of Commerce, found it difficult, shifted to BA Economics and eventually crashed out of university.
Magoha felt that fixing education was a first step towards restoring the culture of honesty and merit in public affairs. In his view, the Kenyan mindset about education was way off and needed a reset, which he was trying to do.
Related Topics