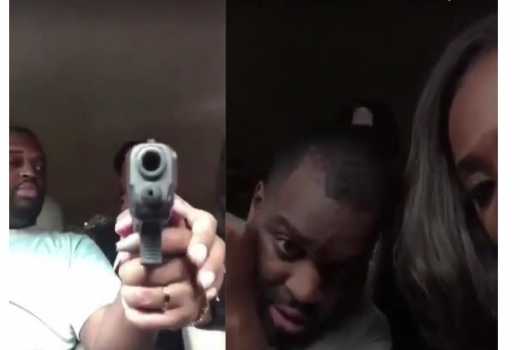 A woman is in jail after shooting a man in the head at point blank range on an internet live stream while showing off with a handgun.
Cassandra Nickcole Damper, 25, was arrested after she shot Devyn Holmes on Facebook Live while they were sitting in a car outside a gas station in Houston, Texas.
Police were initially called to reports that a man had shot himself in the head early on Sunday morning but social media evidence would suggest that he was shot by Ms Damper.
Police said that Ms Damper, the victim and a second man were checking out each other's guns when she accidentally fired, blasting the victim in the head as he sat in the driver's seat.
"The disturbance appears to be kids playing with guns," Detective John Roberts said.
Ms Damper and the second man were detained for questioning, during which their hands were bagged so investigators could test for gunshot residue, CW39 in Houston reports.
Police said Ms Damper tried to destroy evidence by wiping off any gunshot residue that may have been present.
Ms Damper has been charged with tampering with evidence and is currently in jail.
The case will be referred to the grand jury where additional charges may be filed, Click2Houston reports.
Houston Police said on Twitter that the gunshot victim was brought to Ben Taub hospital.
He remains on life support and his condition is believed to be critical.It is believed that he is a young father.
Ms Damper told police she thought the weapons were unloaded, Click2Houston reports.
The other man seen in the video has not been charged, according to local media.
The shocking video, which was streamed live on Facebook, shows three people in a car joking while waving their guns.
The victim and Ms Damper are seen in the front seat with a gun lying between them.
Damper then takes hold of the gun and points it towards the camera.
"You're making me nervous," Holmes is heard saying as he tries to still the woman's hand who is handling the gun.
"It ain't got no clip, bud," the other man sitting in the back of the car is heard saying.
A second later, the gun fired, hitting Mr Holmes in the head.
He slumps over as blood seeps from his head down his shirt.
WARNING! GRAPHIC CONTENT
Related Topics